PRCA COVID-19 Taskforce publishes globally-crowdsourced report of communications lessons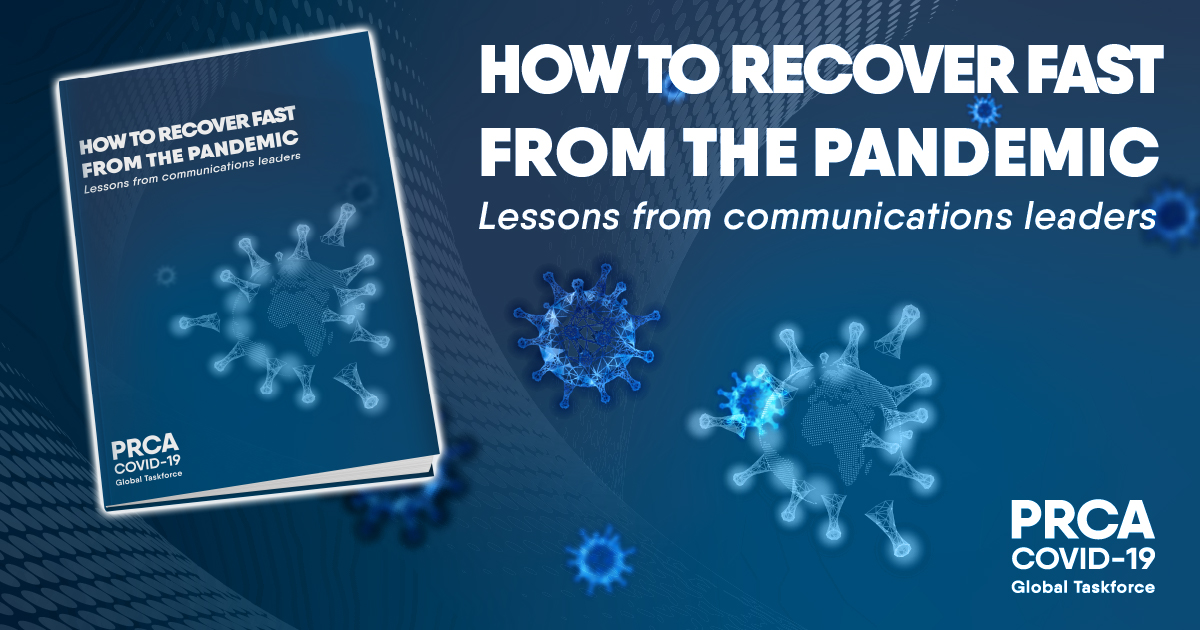 The PRCA's Global COVID-19 Communications Taskforce has published a new crowdsourced report showcasing insight on the pandemic from 75 industry leaders operating across 23 countries.
How to recover fast from the pandemic aims to elevate global understanding of best practice communications, revealing how it can support businesses and organisations recovering from the pandemic.
Spearheaded by PRCA COVID-19 Taskforce Chair Tony Langham MPRCA, the 85-page report has been made freely available to PR and communications professionals around the world. Key themes include; the role of communications in creating a better world, the importance of communications counsel for business, and the industry's impact on people and culture.
The findings from the report will be presented and debated in a special virtual event featuring an esteemed panel representing four continents at 5pm (GST) on Thursday, 19th November. The event is free-to-attend but registration is required.
Commenting on the report, PRCA Global COVID-19 Communications Taskforce Chair and Lansons Chief Executive Tony Langham MPRCA said:
"I am absolutely thrilled this project has turned out so well. Reading contributions from 23 different countries, you'll be struck by the spirit of positivity that runs through the report. So many of us want to be part of improving the world.
"My strongest recommendation is that you set three hours aside and read all 18,000 words. I found that I learned something from every contribution and I'm deeply grateful to all our colleagues around the world who've helped create this fitting legacy for the Taskforce."
PRCA Director General, Francis Ingham MPRCA commented:
"Under Tony's leadership, the PRCA's Global COVID-19 Communications Taskforce has embodied the collaborative spirit that has defined our industry's efforts to address the impact of the pandemic.
"This extensive new report is a powerful example of what PR professionals around the world can achieve when they come together to face a common challenge. I'd like to thank Tony and all the contributors who've delivered this outstanding piece of work."
The PRCA's Global COVID-19 Communications Taskforce was launched in March 2020 to provide practical support to public relations professionals during the COVID-19 crisis. It has delivered 40 free advice sessions to PR professionals around the world and hosted 9 free webinars viewed by more than 1,500 practitioners.
-ENDS-
Further information
Koray Camgöz
Director of Communications & Marketing, PRCA
E: koray.camgoz@prca.org.uk
P: +44 (0)7503 63268
https://prca.mena.global/wp-content/uploads/2020/11/report-covid-launch-TW-FB.jpg
630
1200
prcaadmin
https://prca.mena.global/wp-content/uploads/2016/09/PRCAMENA.jpg
prcaadmin
2020-11-17 10:03:52
2020-11-17 10:05:11
PRCA COVID-19 Taskforce publishes globally-crowdsourced report of communications lessons