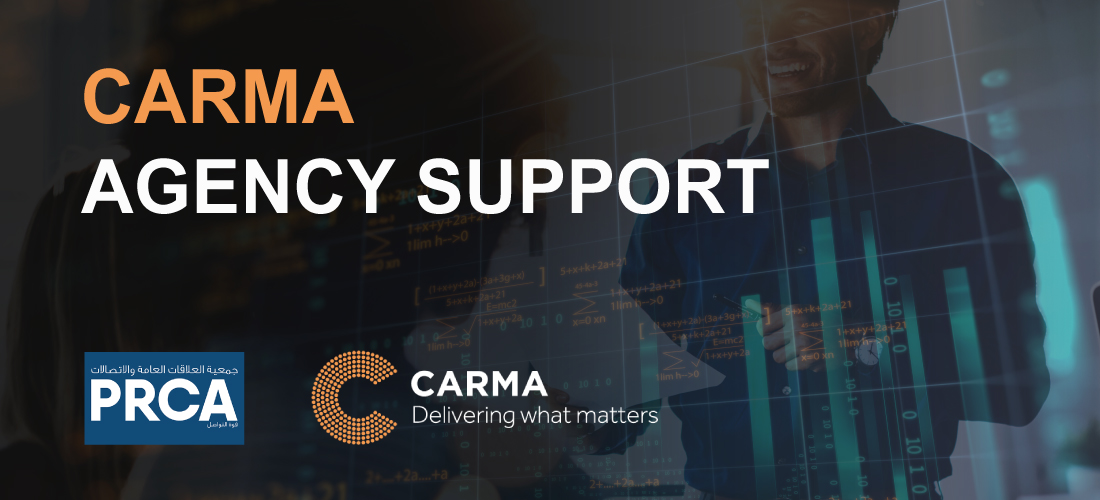 As of 1st March 2021, the PRCA has announced CARMA as their exclusive global Media Monitoring & Analysis Partner.
The world's longest established media intelligence provider, CARMA's longevity can be attributed to a relentless focus on excellence and exceptional client service. This client-centric approach attracts top talent from among the media intelligence community. Across the globe, these experienced consultants and experts enable organisations to gain true media insight and demonstrate the effectiveness of their PR.
ICCO Chief Executive and PRCA Director General Francis Ingham MPRCA commented on the partnership:
"CARMA sets the gold standard in media intelligence, media monitoring, and analysis. So, this global, exclusive, long-term partnership makes perfect sense for ICCO and the PRCA.
"The kind of insight that CARMA provides is more critical than ever for the PR, marketing, and communications industry. Their analysis will help PR practitioners around the world take full advantage of the economic recovery as it unfolds."
Founder and CEO of CARMA, Mazen Nahawi comments on the Agency Support Services:
"PRCA have built a global network and knowledge base which add important value to communications professionals in the MENA region and around the world.
The CARMA team globally are delighted to partner with PRCA to extend that value by  providing preferential support across our social, digital and analysis solutions to PRCA members in MENA, and globally.
We look forward to shared success and elevated levels of engagement with all our partners through this new and exciting partnership."
Pitch Support Services*
As the media intelligence partner to the PRCA, delivering media monitoring and analysis to the PR & communications industry, CARMA offers a range of support services to help you win your next big pitch – from complimentary to paid-for options.
Let CARMA support you with the media insights to support your planning and strategy development for prospective clients, whilst highlighting that your approach is underpinned by hard data and research.
The complimentary services include:
Client Coverage Reports: PDF pressbooks of previous client exposure from the region in traditional or digital media.
Social Media Snapshot: Automated report on what's been driving the discussion around the client on social, what engagement has been generated and who are the influencers?
Sample Analysis Reports: Analysis reports (with dummy data) to help in visualizing what measurement can achieve in evaluating performance over time and the insights gathered.
Industry Expert Consultation: Leveraging our industry experience to advise on best practice around measurement and insights to answer the questions your client is trying to answer.
 Partner-rate Packages*
In addition to the above, CARMA offers preferential rates and packages for a range of services that can be used during the pitching process or for existing clients that would benefit from a comprehensive media monitoring and analysis framework.
Deep-Dive Analysis Report: Qualitative media analysis to help in not only evaluating performance but strategic insights around key message delivery, sentiment, reputation drivers and spokespeople positioning.
Campaign Evaluation Report: Overall impact of a client campaign. What were the results and key media pickup? Using these insights to improve future campaigns.
Integrated Analysis with Market Research: By integrating media analysis with market research, you can assess the correlation of communications activities with organizational objectives. Has the campaign resulted in a behavioural change in your target audience?
To find out more about CARMA visit https://carma.com/ or contact them on agency@carma.com for a discussion on how they can help you win more business.