Golin is PRWeek's Global Agency of the Year.. Again!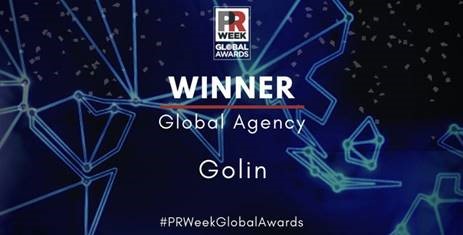 Golin Wins PRWeek's 2020 'Global Agency Award' for Second Year Running.
Commitment to relevance and #ProgressivePR sees Golin leading the industry
Dubai, UAE; 01 June 2020: Golin was named "Global Agency of the Year 2020" by PRWeek at the virtual awards held in May 2020. The recognition, which Golin received in both 2019 and 2020, is a testament to the successful outcome of the agency's commitment to reclaim the core of Public Relations, with relevance, progressive tools, and the customer journey at the heart of its programmes.
The PRWeek award highlighted global business wins, as well as Golin's suite of progressive offerings such as customer experience public relations (CXPR), insight-mining platforms such as the Relevance Radar, proprietary material for the Brand Voice and media training, and the Playbook, Golin's unique creative planning process.
Yiannis Vafeas, Managing Director, GolinMENA, said: "This achievement is attestation to the great work of the Golin team globally. To be recognized as PR Agency of the year is no small feat, and to be awarded two consecutive years makes it all the more special. Our commitment to reclaiming the roots of public relations has seen a positive response from the marketplace, and clients and prospects have been vocal about their prioritisation of excellence in delivery over a wider, thinner range of services. The year 2020 has brought its share of challenges to the world, but we have chosen to focus on the opportunity. As 2020 agency of the year, we move forward with optimism."
About GolinMENA
Golin is PRWeek's Global PR Agency of the year in 2019 and 2020. GolinMENA is owned by Interpublic Group's Golin and Horizon Holdings. GolinMENA is a progressive regional agency, designed to reach a profoundly diverse market through Public Relations. We proudly reclaim and redefine PR at a time when earning attention has never been more important.
Find out more on www.golinmena.net and www.golin.com
For any queries, please contact:
Anit Kurian
akurian@golin.com
+971 50 554 9433
https://prca.mena.global/wp-content/uploads/2020/06/GOLIN.jpg
235
463
prcaadmin
https://prca.mena.global/wp-content/uploads/2016/09/PRCAMENA.jpg
prcaadmin
2020-06-01 14:53:28
2020-06-01 14:53:28
Golin is PRWeek's Global Agency of the Year.. Again!