Inaugural PR World Cup Finalists Announced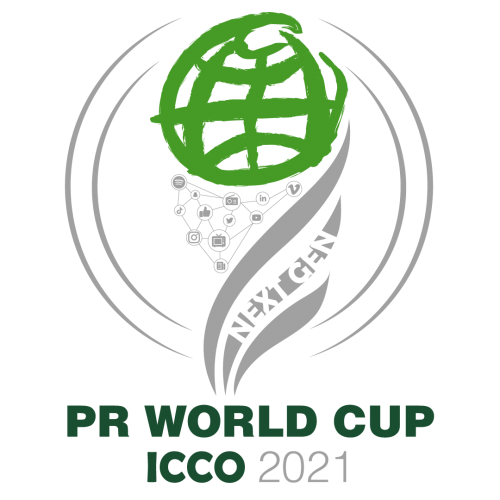 LONDON, 6th October 2021
Eleven countries will compete for gold in the first-ever ICCO Next Generation PR World Cup Final later this month.
To qualify for the global final, contestants had to win a national or regional competition, overseen by their local ICCO PR association. In each national competition, participants fulfilled a brief set by a local charity in less than 48 hours. The winning pitch was then determined by a panel of judges.
The final will take place virtually between 13th and 18th October. Answering a global charity's brief, participants will have five days to put together a five-minute recorded video pitch, which will then be judged by a panel comprised of PR experts from around the world.
Rob Morbin, ICCO Deputy Chief Executive said:
"One of ICCO members' priorities is to ensure the pipeline of PR talent is nurtured and that we support the next generation of global creative thinkers and internationally-minded PR professionals. Winners from different associations across the Americas, Africa, Asia, Europe and the Middle East have done incredibly well to win, and the next stage will be even tougher!"
The winner will be announced on 21st October.
The full list of finalists is:
| | | | |
| --- | --- | --- | --- |
| Name | Agency | Team/ Country | ICCO Association |
| Nina Kenakkala | Novarty Oy | Finland | MTL |
| Vilma Suokko | Letho Group Ojy | Finland | MTL |
| Maria da Silva | Agence Proches | France | SCRP |
| Vasileios Vrakas | Omnicom PR Group France | France | SCRP |
| Gerda Scheirlich | Opencom | Hungary | HUPRA |
| Csenge Miller | Opencom | Hungary | HUPRA |
| Iknoor Kaur | SPAG Asia | India | PRCAI |
| Neha Chandra | SPAG Asia | India | PRCAI |
| Flavia Perricone | Omnicom Italy | Italy | UNA |
| Ludovica Marchese | Omnicom Italy | Italy | UNA |
| Jessica Openheim | Porter Novelli Mexico | Mexico | PRCA Americas |
| Leticia Villegas | Porter Novelli Mexico | Mexico | PRCA Americas |
| Hameed Olanrewaju | Modion Comms | Nigeria | APRA/ PRCA Africa Network |
| Onyeka Iyoha | Modion Comms | Nigeria | APRA/ PRCA Africa Network |
| Valeriya Yudina | Elefante Porter Novelli | Russia | PRCA Russia |
| Julia Kurbatova | Elefante Porter Novelli | Russia | PRCA Russia |
| Heather Seet | Mutant Communications | Singapore | PRCA Asia Pacific |
| Victoria Brown | Mutant Communications | Singapore | PRCA Asia Pacific |
| Sweta Fernandes | Golin MENA | UAE | PRCA Middle East and North Africa |
| Hazem Beshr | Golin MENA | UAE | PRCA Middle East and North Africa |
| Elliot Payne | Bold Space | UK | PRCA UK |
| Sophie Webster | Bold Space | UK | PRCA UK |
https://prca.mena.global/wp-content/uploads/2021/10/PR-World-Cup-2021-logo-e1633842315254.png
500
500
prcaadmin
https://prca.mena.global/wp-content/uploads/2016/09/PRCAMENA.jpg
prcaadmin
2021-10-06 16:23:20
2021-10-10 09:06:26
Inaugural PR World Cup Finalists Announced