W7Worldwide and Avaya Set Out A 7-Step Communications Guide for Technology Companies Towards COVID-19 Recovery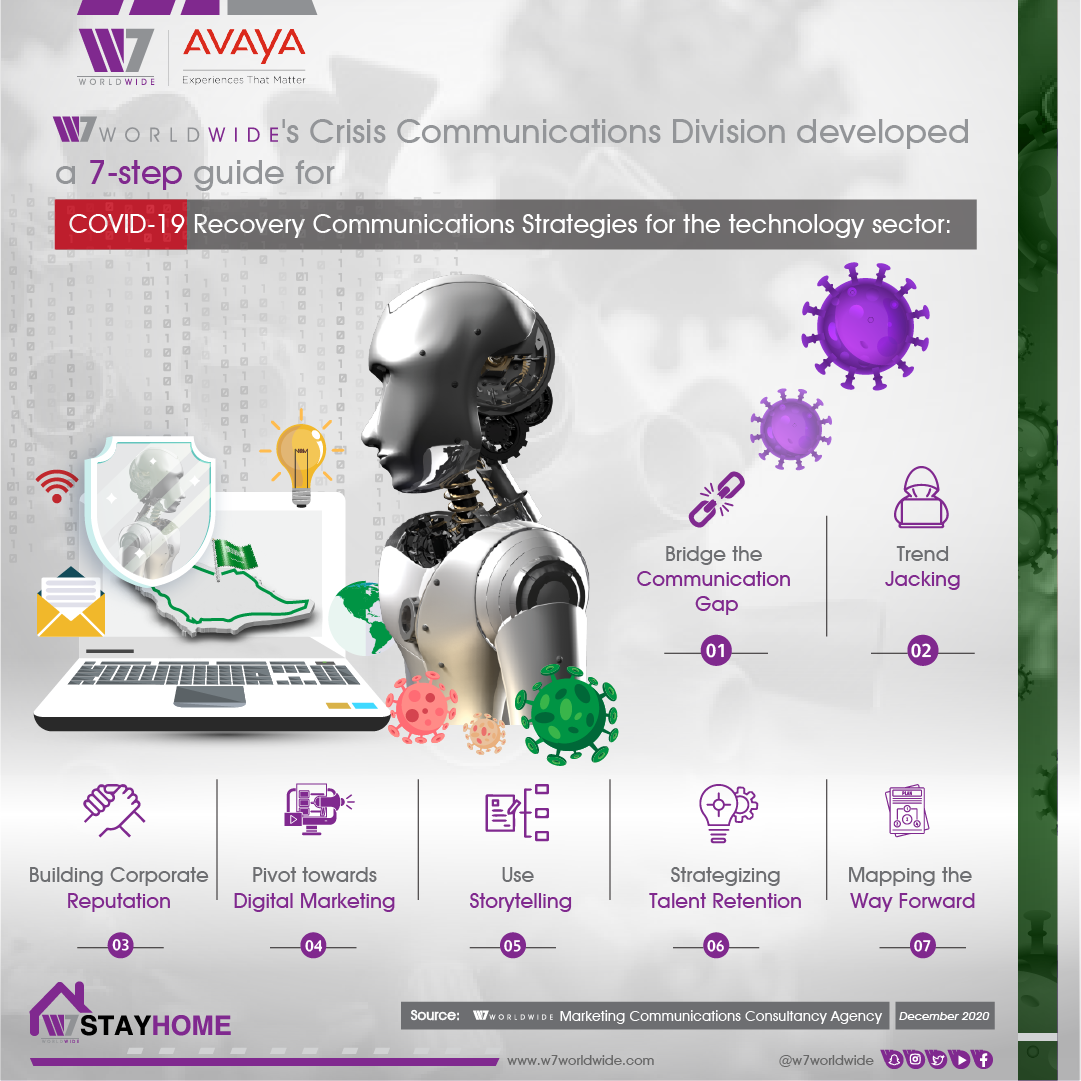 22nd December 2020, Jeddah:
Technology has been central to society's adaptability, providing infrastructure, connectivity, business continuity and community in the COVID-19 era.  Large-scale national efforts to utilize technology in support of remote learning, distance education, and working from home during the pandemic have been emerging and are evolving quickly.  Business continuity was made possible through the networks, applications, services, and devices of tech companies.
The IMF (International Monetary Fund) forecasts that global GDP will contract by as much as 4.9% in 2020, making this the worst recession since World War II.  However, COVID-19 is having the opposite effect when it comes to technology and innovation.  Tech companies are leading the way on a variety of strategies other industries are now adopting to deal with the crisis, such as remote workforce, global supply chain management and managing disruption.  Technology is helping to save lives and livelihoods during the COVID-19 crisis.
The Digital Economy
'The technology sector will help fuel growth during the recovery from COVID-19.  The crisis has caused a reset in marketing and communications strategy with the priority on purpose.' explains Zouheir Diab, Managing Director of Avaya in Saudi Arabia.  'Social distancing will create new demand for products and services delivered by the tech industry.  This is the time for technology leaders to step forward and tell their stories about their contribution to the global effort, build confidence and preserve trust for the long-term with proactive communications.  We have worked with our communications partners W7Worldwide to produce a helpful communications guide aimed at technology companies, to assist them with their recovery planning."
"For those whose purpose benefits the post pandemic life, those supplying companies with the technology to securely work remotely and those who deploy technology to tackle COVID-19, this pandemic will be more of a growth opportunity than a setback." says Abdullah Inayat, Co-Founder of W7Worldwide. "To evolve at the speed demanded by the market today, organizations will need to establish their own unique DNA.  Communications will play a critical role in the short-term and long-term for technology companies as we recover from the COVID-19 pandemic."
Communication Through Recovery
The 7-Step Communications Guide produced by W7Worldwide with Avaya sets out the current key actions technology companies should take to update their communications strategies and plans towards COVID-19 recovery (To see the full report, click here).  The guide recommends that technology companies pivot towards digital communication strategies to help with lead generation, use trend jacking and storytelling to generate publicity, adapt to new customer expectations of socially responsible behaviour and implement a talent retention strategy.
The challenge going forward is in understanding the new customer values and needs COVID-19 has created.  Businesses need to remain focused on short-term innovation to deal with the immediate challenges and opportunities whilst also planning for the future.  Technology leaders need to step forward and engage in conversation around their business with customers, stakeholders, the public, and employees.  Consumers are starting to see the value of tech brands, as their everyday lives change and adjust to the post COVID-19 crisis.
Avaya is reimagining digital communications with innovation that defines the future of work and the customer experience. Its Avaya OneCloud ecosystem and its solutions empower organizations to deliver experiences that matter to customers and employees alike.
Avaya moved quickly this year to enable companies, schools, governments and organizations of all kinds to adapt to working from anywhere. Every day more and more people were connected, collaborating and continuing to be productive while staying safe, based on the speed at which Avaya was able to respond.
In response to COVID-19, the company empowered well over 2 million staff members to work from home for its customers around the world. These customers benefitted from the complimentary 90-day access licenses Avaya offered to pivot their office-based contact center agents and others to work remotely while maintaining exceptional levels of customer engagement. Avaya helped over 11,000 organizations in just a few weeks, including leading private firms, government agencies, and many more who rely on Avaya as their trusted partner.
The company has been working with W7Worldwide as their communications partner for the past 2 years.
To Sum it Up
Tech companies are always working on the cutting edge, exploring new channels for human innovation, and constantly pushing the envelope to see what else is possible. In other words, they are breaking new ground. The 7-Step 'COVID-19 Recovery Communications Strategies for Technology Companies' Guide brings together Avaya's and W7Worldwide's combined technology and corporate communications expertise to help technology companies formulate an effective COVID-19 Recovery communications strategy for their business.
https://prca.mena.global/wp-content/uploads/2020/12/en.png
1081
1081
prcaadmin
https://prca.mena.global/wp-content/uploads/2016/09/PRCAMENA.jpg
prcaadmin
2020-12-22 13:49:37
2020-12-22 13:49:37
W7Worldwide and Avaya Set Out A 7-Step Communications Guide for Technology Companies Towards COVID-19 Recovery