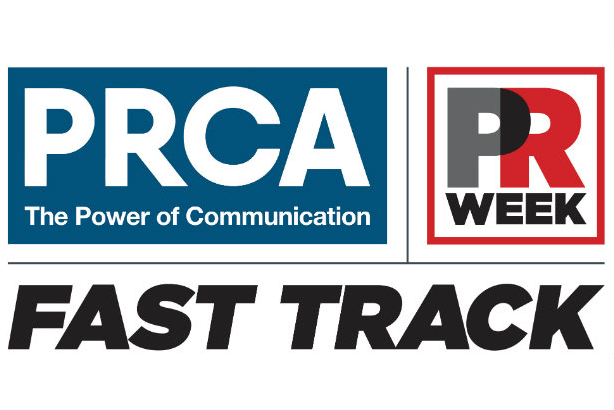 The PRCA and PRWeek is pleased to announce the latest tranche of the Fast Track mentoring scheme, which are aimed at inspiring the next generation of PR and communications leaders to follow in the footsteps of some industry legends.
The Fast Track mentoring scheme is being launched by the PRCA Fellows with an initial 21 mentors, all of whom have made an outstanding contribution to the business of PR and communications during their careers. While the majority of the mentors are based in the UK, there are also two mentors based in the United Arab Emirates, operating through PRCA MENA.
The UK mentors include: Colin Byrne FPRCA, EMEA CEO, Weber Shandwick; Alison Clarke FPRCA, Principal, Alison Clarke Communications; Howell James FPRCA, CEO, Quiller Consultants; and Angie Moxham FPRCA, Chief Monkey, Zeno Europe. The MENA mentors are Alex Malouf MPRCA, Corporate Communications Manager for the Arabian Peninsula, Procter & Gamble; and Yiannis Vafeas MPRCA, Managing Director, Golin MENA.
The scheme is aimed at PRCA agency members at Senior Account Director/Associate Director level and above; and in-house members who have the ability to build and manage an in-house team.
The PRCA Fellows will draw on their invaluable experience to guide these mentees through the next stage in their career, helping them to develop their understanding and expertise in agency management and the business of PR and communications.
Francis Ingham MPRCA, Director General, PRCA, said: "We are very proud to launch the latest stage in the Fast Track mentoring scheme, aimed at inspiring mentees to go even further with their careers. Mentoring is a fantastic way of passing on the expertise and knowledge held within the industry to a new generation of hopefuls."
Each mentoring engagement will last for a period of six months, with the first tranche of mentors beginning in February 2017 and ending in July 2017.
Each structured mentoring placement will start with a face to face meeting between the mentor and mentee; and will then be followed by monthly meetings, or calls or Skype. It is expected that each mentor/mentee pair will meet or talk six times over the six months. The programme is completely free of charge to PRCA members.
If you, or a member of your team, feel as though they would benefit from this programme, please contact matt.cartmell@prca.org.uk, explaining in no more than 250 words why you would like to be mentored and the benefits you would like to gain.
The PRCA is also taking applications from more mentors. If you have held the role of director or above, you could be a great addition to our list of mentors. Contact Matt Cartmell with details of your CV.
The mentors are:
Iain Anderson FPRCA
Iain is Co-founder and Executive Chairman at Cicero Group and focuses on public policy and corporate communications strategy supporting many global FTSE and Fortune 500 blue chip organisations. He provides CEO and Board level counsel. He is one of the Financial Times / OUTstanding Global 100 Executives.
Eben Black FPRCA
Political journalist for 16 years, including political editor of the News of the World and chief political correspondent of the Sunday Times. Ten years as head of media at DLA Piper, the world's largest law firm. Now managing director at Erudite PR, which he founded in 2015.
Colin Byrne FPRCA
A 35-year communications industry veteran spanning senior in house roles and 22 years as a practice leader and CEO with Weber Shandwick. A regular speaker, lecturer and commentator on PR industry issues, a Fellow of the PRCA and a board member of the CIPR.
Rod Cartwright FPRCA
Rod is Director of Ketchum's Global Corporate & Public Affairs Practice. Specialising in corporate communications and stakeholder engagement, issues & crisis management and public affairs, Rod has worked over the past 18 years for a number of leading independent consultancies and international PR networks.
Alison Clarke FPRCA
Alison runs her own consulting business working as NED, board advisor and mentor to a portfolio of corporates and consultancies. She has over 25 years experience of running consultancies and networks together with M&A work in the UK and Asia Pacific.
Sally Costerton FPRCA
Sally has spent over 25 years in communications leading and working with teams of all sizes and nationalities, resolving issues from the most straightforward to those involving complex international multi-stakeholder environments. Prior to starting Sally Costerton Advisory she was EMEA CEO of communications firm Hill & Knowlton Strategies.
Jackie Elliot FPRCA
Jackie was CEO of MSL's London office and EVP, Global Clients before leaving to become international marketing director for Rolex in Geneva. She is a former chair of the PRCA, occasional agony aunt for PRWeek and now heads the corporate consulting and PR agency search firm, Cathcart Consulting.
Dick Fedorcio FPRCA
Dick has over 40 years' experience in public sector communications covering media and public relations, crisis and issue management, public affairs, stakeholder engagement, internal communication, publicity, advertising, digital and social media and marketing.
Alastair Gornall FPRCA
Alastair has 30 years' experience of founding and building two award winning PR agencies, Scope Communications and Consolidated Communications Group. He has been CEO of Reed Exhibitions and Chairman of Blue Rubicon. He is now Chairman of Hanover Communication, Finn PR and a strategic advisor to a number of other media organisations including Gartner Inc.
Angela Heylin FPRCA
A veteran consumer and marketing PR consultant, ex Charles Barker and BSMG Worldwide, Angela went on to be a non-executive director of three publicly quoted companies, chaired a hospice for homeless women in Soho and was a founder trustee of Historic Royal Palaces.  She spent the last three years of her PR career training and mentoring staff in communications skills, with courses in part based on her book 'Putting it Across'.
Richard Houghton FPRCA
Richard spent the first 25 years of his career working in network PR consultancies, holding senior management and MD positions in FleishmanHillard, Shandwick, and Ketchum and running his own specialist agency for ten years. In his current role as the Agency Doctor he helps agencies to grow.
Howell James FPRCA
Howell is CEO of Quiller Consultants. He was previously Political Secretary to Prime Minister John Major, Director of Corporate Affairs for the BBC, Permanent Secretary for Government Communications in the Cabinet Office, and Vice Chairman Corporate Affairs for Barclays plc.
Jonathan Jordan FPRCA
Jonathan is the Founder and Senior Partner of Sermelo, an independent corporate affairs advisory firm, and his specialisms include issues management, crisis communications and global campaign development. He is Co-chair of the PRCA's Qualification Board and was previously the Chief Executive of Burson-Marsteller UK and has been the recipient of numerous industry awards.
Barry Leggetter FPRCA
Passionate about helping others develop, Barry Leggetter has a 30-year PR consultancy background including CEO roles of UK offices of FleishmanHillard, GolinHarris and Porter Novelli.
Alex Malouf MPRCA
Alex is a marketing communications executive who has spent the last 14 years in the Middle East and lived across the region, in Saudi Arabia, Bahrain, Lebanon, Jordan, Syria and the United Arab Emirates. He holds the position of Corporate Communications Manager for the Arabian Peninsula at Procter & Gamble.
Michael Murphy FPRCA
Michael runs his own advisory firm, Michael Murphy & Ltd, helping communications agencies and consultancies of all sizes to accelerate their growth and improve their performance. He previously had a long career running international PR firms, and is also a governor of London Metropolitan University and a member of The Superbrands Council.
Angie Moxham FPRCA
Angie set up 3 Monkeys in 2003, aiming at blue chip clients who wanted a smaller agency culture and service.
Alex Singleton FPRCA
Alex leads communications and marketing at the hospitals and rehabilitation group Circle Health. He is author of The PR Masterclass, the best-selling book on media relations.
Basil Towers FPRCA
Basil is a Senior Managing Director at Teneo Blue Rubicon. He researches and advises on managing reputation as an organisational capability and the development of high value corporate affairs teams.
Yiannis Vafeas MPRCA
Yiannis is a seasoned executive in the communications industry, with extensive experience across the disciplines of PR, Advertising and Media. Yiannis is leading GolinMENA and his pivotal role is to act as a client advocate and senior counsel, introducing 'best in practice' strategies, through creative ideas and flawless implementation.
Adrian Wheeler FPRCA
Adrian is a former CEO of GCI and a former chairman of the PRCA. He makes his living as an independent consultant, trainer and non-executive director.
https://prca.mena.global/wp-content/uploads/2017/01/mentorlogocrop.png
410
614
prcaadmin
https://prca.mena.global/wp-content/uploads/2016/09/PRCAMENA.jpg
prcaadmin
2017-01-23 15:25:41
2017-01-23 15:25:41
PRCA and PRWeek launch new tranche of Fast Track mentoring scheme