PRCA MENA's NextGen Arabia Committee Launches 'Hala NextGen', the Go-to Platform for Arabic PR Professionals in the Region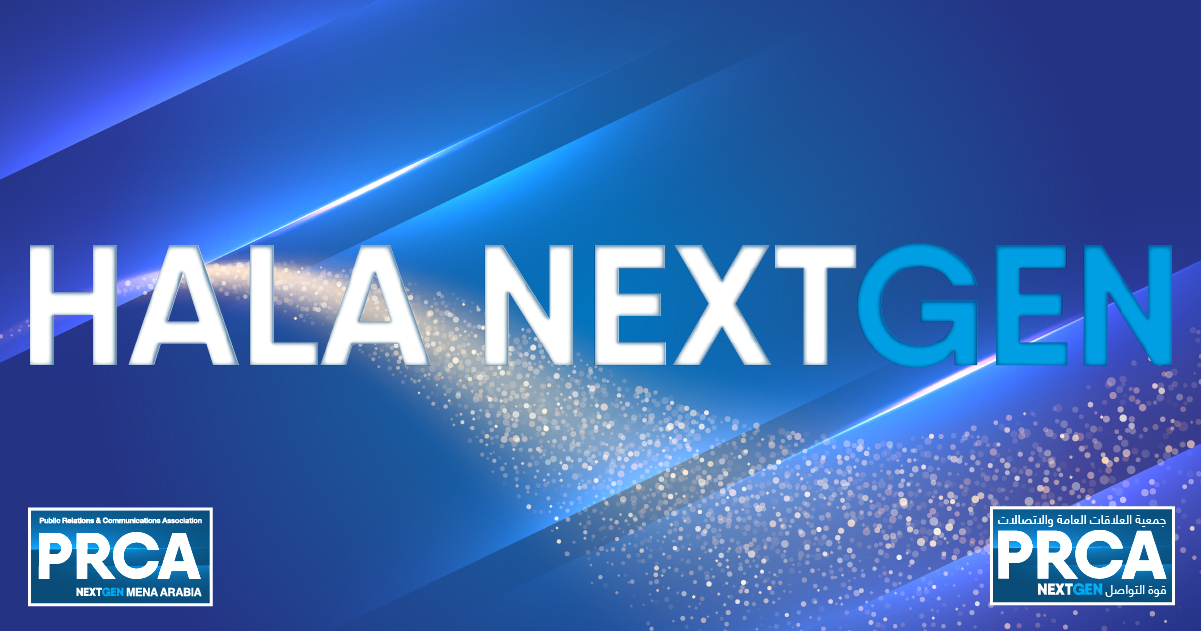 Dubai, United Arab Emirates – PRCA MENA's NextGen Arabia Group is launching an online community platform, Hala NextGen, intending to give back to the upcoming generation of Arabic Public Relations Professionals. The initiative will deepen engagement with other Arabic PR professionals within the industry through dedicated opportunities to network, collaborate, and share best practices. Derived from the word 'Hala' which in Arabic translates to 'welcome', the committee wishes to extend its invitation to the wider Arabic PR community across the Middle East.
Looking to position itself as the go-to platform for Arabic PR professionals, from Junior Executives up to high-level senior professionals, Hala NextGen will provide the necessary support and professional development opportunities among fresh PR graduates. This will cement PRCA MENA's NextGen Arabia committee's position as the ultimate professional platform for Arabic PR professionals to join.
PRCA MENA General Manager Hayley Clements MPRCA said:
"We're absolutely determined to give young Arabic professionals the support and advice they need to propel their career forward. I know that under the leadership of Raghad ElAssi, the NextGen Arabia Committee will be the perfect vehicle to achieve this in the region."
Raghad ElAssi, NextGen Arabia Chair and Senior Public Relations Specialist at OSN commented on the launch: "I am super excited to launch Hala NextGen with my very supportive Vice Chair, Nasr Ankar, and the incredible committee members. Hala NextGen is not just an initiative, it's an invite to welcome the Arabic-speaking PR Professionals to join our inclusive sessions. We have two main goals: recognise young voices and connect the Arabic-speaking PR community to address the needs of young professionals. The MENA region is rich with young PR talents and with Hala NextGen, we will be able to further unlock and empower the next generation of Arabic-speaking PR professionals in the region."
The first Hala NextGen 1:1 session is scheduled to kick off on Thursday 29. For further information on how to register, please click on the registration link on the PRCA MENA website here.
*The sessions are only open and are free of cost to PRCA MENA members.
-ENDS-
 Notes to Editors:
As a part of its knowledge sharing strategy, Hala NextGen invites Junior PR Executives, all the way up to PR Account Managers to send any support requests or inquiries to the NextGen Arabia committee on NextGenArabia@prca.mena.global or fill the corresponding form available on the PRCA MENA website to schedule 1:1, safe and confidential, sessions with any members of the committee. NextGen Arabia's committee members will be available for short 15-30 minutes sessions, every last Thursday of the month between 2:00 pm and 4:00 pm to answer any industry-related questions and provide the required support.
 To access the FAQs: https://prca.mena.global/membership/prca-mena-groups/prca-mena-nextgen-arabia-group-2/hala-nextgen-initiative-faq/
WHO WE ARE
The Public Relations and Communications Association (PRCA) is the world's largest professional PR body.
We represent more than 35,000 PR professionals in 66 countries worldwide. With offices in London, Singapore, Dubai, and Buenos Aires, we are a global advocate for excellence in public relations.
Our mission is to create a more professional, ethical, and prosperous PR industry. We champion – and enforce – professional standards in the UK and overseas through our Professional Charter and Code of Conduct. The Code compels members to adhere to the highest standards of ethical practice.
We deliver exceptional training, authoritative industry data, and global networking and development opportunities. We also manage the International Communications Consultancy Organisation (ICCO), the umbrella body for 40 PR associations across the world, and LG Comms – the UK's national body for authorities raising standards of local government communication.
https://prca.mena.global/wp-content/uploads/2021/07/Artboard-8-copy-2.jpg
631
1201
prcaadmin
https://prca.mena.global/wp-content/uploads/2016/09/PRCAMENA.jpg
prcaadmin
2021-07-11 10:00:26
2021-07-11 09:53:18
PRCA MENA's NextGen Arabia Committee Launches 'Hala NextGen', the Go-to Platform for Arabic PR Professionals in the Region