Lend us your ears… Some of the best isolation podcasts to tune into!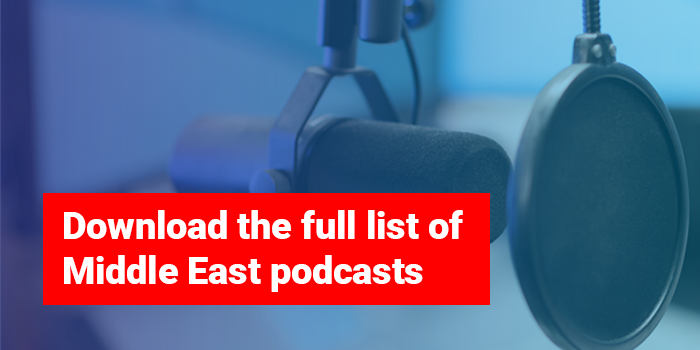 United Arab Emirates, 10th May 2020.
Markettiers have pulled together a couple of the best Podcasts around right now!
Listen up: whilst Netflix is becoming our daily staple as we binge-watch series and films at an unprecedented rate, many of us are also turning to other mediums as a form of escapism to keep us entertained during lockdown.
Podcasts, although nothing new (they've been around since 2004), are experiencing a huge renaissance at the minute, fuelled by the sudden increase of people looking for authentic content. In the UAE there are 1.3 million regular podcast listeners alone, and in the last few months, there has been a marked rise in podcasts focused on news and entertainment. Some of the genres that are really winning big at the moment are, perhaps unsurprisingly, podcasts on mindfulness, virtual workouts and bitesize overviews of the latest news on Covid-19.
And so, with a medium on the rise, here's a round-up of some of the region's best and most interesting podcasts to listen to during isolation, whatever your tastes and hobbies.​
When Women Win
Make no mistake about it, Rania Nawas is becoming the Queen of the region's podcast scene. With 80 episodes under the belt already, her podcast series, When Women Win, consistently tops the charts with its tales of female role models from around the world who share their inspirational stories and practical tools that helped them succeed. The latest episode (at the time of writing) features Rania speaking to Bernadette Abraham, a highly respected functional Nutritional Therapy Practioner who's book 'Unjunk', paves the way for a very honest conversation on the relationship between stress, exercise and food.
#ABTalks
Hosted by Anas Bukhash, one of the most successful entrepreneurs and speakers in the UAE, this series covers in-depth interviews with celebrities from around the world, covering everything from social issues to human behaviours and relationships. Check out the special mini-series with Red Bull and in particular the episode with Max Verstappen, the youngest F1 racer who competed at the age of 17. Very few people know who Max really is, and with Anas he opens up about his relationship with his family, what he's afraid of and the people who have helped him achieve his dreams.
Buckle Up with Big Hass
"You fall in love with their art, then when you meet them, you fall in love with their humour." In the 45th episode, Big Hass speaks to Sudanese Singer / Songwriter and rapper Nadine about her first single 'The Throne'.  A big champion of the regional music scene, Big Hass — a UAE-based radio presenter from Saudi Arabia – delivers his interviews 'carpool karaoke' style as he picks up emerging and established artists, getting to the bottom of what makes them tick. The easy-to-binge nature of the show also has a YouTube channel which sheds light on local talent, and with over 21K subscribers, he's certainly making his mark.
The Forever Student
In the recent episode on 'how to truly connect with yourself and those around', host Stephen Muller speaks to rapper and motivational artist, Prince EA, who provides advice on how to better connect with ourselves and live a life true of intention. The series itself deals with subjects ranging from mental resilience and meditation, as the series aims to simplify and demystify the complicated. A useful podcast series armed with hints and tips on helping you to optimise your life.
Hamburger Generation
For some light relief, the Hamburger Generation series features bite-sized podcast episodes of comical stories about the lives of second and third generation expats from the region. Brought to you by hosts Jamil Adas and Isra Abu Zayed, the story on 'Italian Suit Mafia Syndicate' tells the story of Othman who is approached in the car park one day, by an overly friendly Italian figure in need of help. If you're looking for a few laughs to get you through the day, this one's for you.
Dukkan Show
Hosted by OT, Reem and Akkaoui, The Dukkan Show focuses on stories of the great conversations friends have when they hangout at their latest 'Dukkan' (literally meaning 'shop' in Arabic). The lively hosts delve into stories that celebrates the ups and downs of life. The episode – pre-Covid19 – entitled 'Beyond Funny', features Liza Kosky talking about privilege, people pleasing and presence. It's an uplifting episode that talks about the importance of being balanced internally.
The Amad Show by Amad Mian
If you like Jay Shetty, then this may be one for you. Featuring stories from trailblazers and creative spirits from around the world, host Amad covers topics from 'letting your intuition guide you' to 'the difference between wishing and believing.' The recent episode with Indian Australian model Zinnia Kumar on how 'rejection is a temporary state', delves into social phobia and how to overcome it, colourism and the power of media and advertising when it comes to representation.
So there you have it; a few podcasts to get you through the week to provide some respite from the Netflix cycle.
And if that's not enough to get you reaching for your ear pods, we also saw that last week marked the start of music streaming app, Deezer launching podcasts in the MENA region for the first time, with content ranging from sports to culture, to music and spirituality. Deezer's CEO for MENA & Turkey, Tareq Mounir said that he 'wants to help people make the most out of the current situation, and one way of doing that is by helping them discover podcasts they'll love.' So with a multitude of platforms providing authentic content from the region, self-isolation has just got that little bit easier.
Also if you are looking for even more podcasts available our partners Talkwalker have got the resource for you!
An exhaustive list of the best, active podcast shows, networks and companies based out of the Middle East or focused on the region. Essential listening.
The full directory of 100+ podcasts includes:
Shows with different focus areas
Social media handles associated with each podcast
Links to the podcasts on various podcast platforms
Contact emails – where available
https://prca.mena.global/wp-content/uploads/2020/05/1159-ME-Podcast-CTA.png
350
700
prcaadmin
https://prca.mena.global/wp-content/uploads/2016/09/PRCAMENA.jpg
prcaadmin
2020-05-10 09:59:03
2020-05-13 09:30:08
Lend us your ears… Some of the best isolation podcasts to tune into!