Job Vacancies @Coffee Communications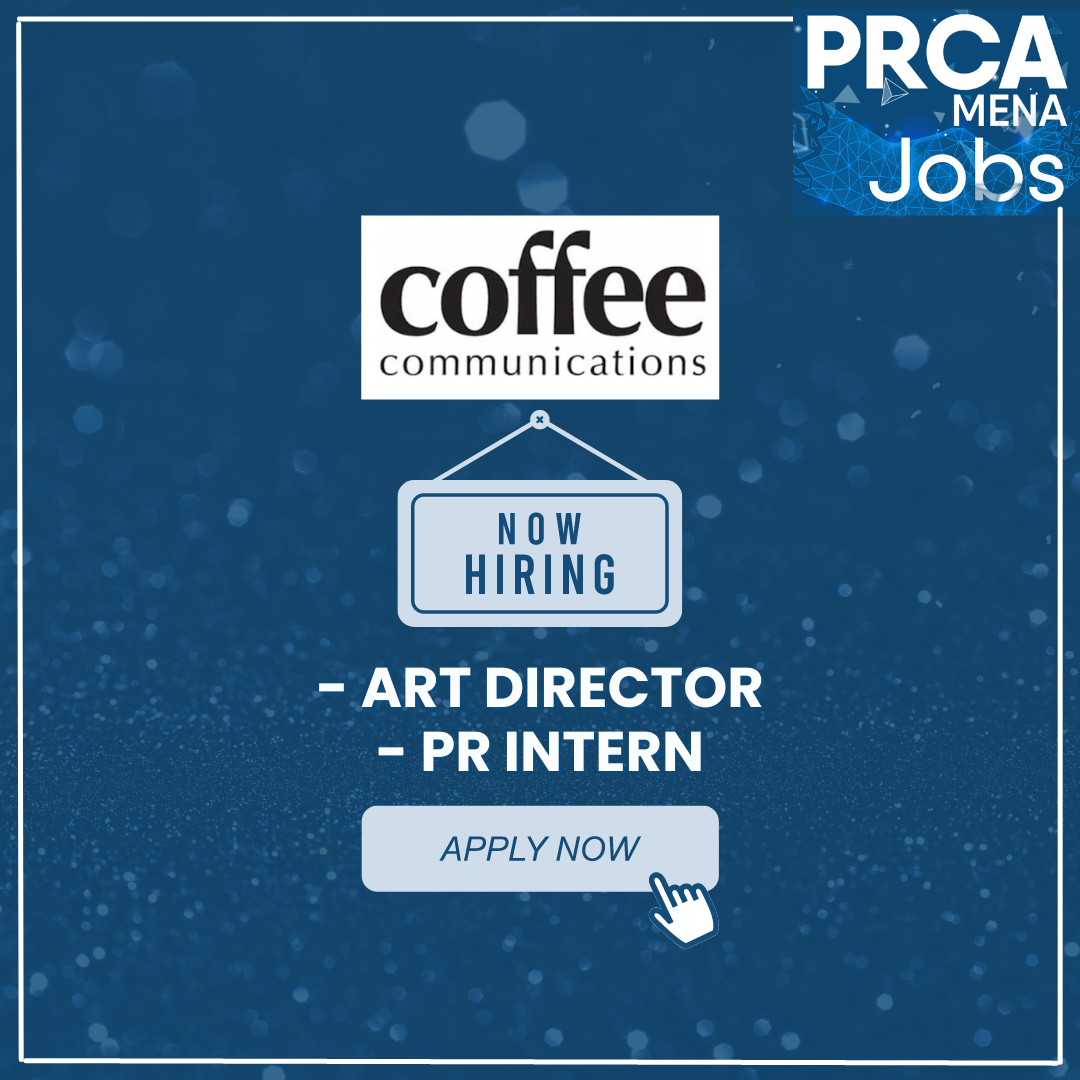 Coffee Communications is currently hiring a PR Intern and Art Director to join their growing team!
PUBLIC RELATIONS INTERN – 3 MONTHS (AED 2000 P/MONTH)
JOB SUMMARY
As a PR intern working across F&B, hospitality, fashion and lifestyle brands, you will be responsible for assisting in the day-to-day support of PR account executives and the key account managers in the team.
As a PR intern you are at the company to learn, to be mentored and to provide valuable assistance to the existing structure. The role is one that is both all-encompassing and diverse, where you will have the opportunity to put forward your ideas as well as assist the experienced team members above you.
The ideal candidate will have an interest in PR, traditional and digital communications, social media and creative as well as basic knowledge of the hospitality fashion and beauty industry, knowledge of the digital arena, be dynamic and strategic, possess competent writing skills, have the ability to take initiative, a positive mindset with a can-do attitude and adept at assisting multiple high-profile clients.
It's essential that in order to be successful in this position, you should possess excellent communication skills, demonstrate creativity, and understand the importance of relationship building and networking. A strong desire to learn and assist all levels of the business is essential.
KEY ATTRIBUTES
– Competent written and verbal communication skills
– Be willing to learn and show initiative
– Have a positive attitude to work
– Be a self-starter and highly motivated
– Can multi-task and prioritize
– Possess excellent time management and an organizational skillset
– Attention to detail
ROLES AND RESPONSIBILITIES (Duties will include, but no limited to the following)
Market Research
Online and data research for reports and pitches
Social media research and reporting
Keep abreast of all media and features/articles key for each client
Media Monitoring
Monitoring daily the media coverage for various clients and compiling clippings for reports
Client Report Development
Deadlines weekly/monthly to hand in to your managers, the media monitoring info.
Additional research for each client online and on social media for activity
Event Planning and Support
Support for the events and management on various logistics related to client events
Dealing with suppliers to ensure the smooth success of all events
Presence at events, setting up and supporting or handling guest list and entry/RSVPs
Creative Ideas and Input for clients
Using initiative to assist the team in PR strategy for each client
Pitching ideas for PR teams to pitch stories in the media relevant to each client
Should be PowerPoint proficient to support with client pitch presentations with the assistance of the account executives and managers
Database Management
 Updating the press database
 Updating the VIP and social media database
They are currently also looking for an ingenious Art Director who will be responsible for driving the creative direction of brands and campaigns, conceptualize content with the client, write creative briefs, create storyboards and manage the creative team to ensure the most creative story is formulated for the right audience at the right time, working in a range of ambitious and innovative
projects to increase brand awareness, improve Marketing efforts and increase sales.
You will manage our company and our brands' image in a cohesive way to achieve our overall goals. As the Art Director, we expect you to be up-to-date with the latest digital technologies and social media trends. You should have excellent communication skills and be able to express our company's views creatively.
ART DIRECTOR DUTIES AND RESPONSIBILITIES:
• Lead the initiation and planning of a project and ensure technical feasibility
• Provide ideas and design multi-channel campaigns, concept boards, motion graphics, pitch
decks, digital ads to launch impressive projects
• Apply brand/style guidelines and be able to establish or create guidelines when brands
evolve, or a need arises.
• Collaborate with designers, social media team, copywriters and other creative colleagues to
deliver on the client's brand look and feel
• Work on multiple projects simultaneously manage time and set expectations with team.
• Coordinate with internal and external parties for the flawless execution of projects
• Manage relationships across all clients
• Participate in client meetings and present work to clients with a confident and wellarticulated
rationale that is grounded in the strategic insight for the assignment
• Be open to feedback and adapt to creative and strategic direction (while confidently
outlining the rationale and choices that back your work)
• Understand marketing initiatives, strategic positioning and target audience
• Take work from concept to final execution within deadlines
• Supervising the team's daily/weekly workflow and delegate responsibilities to other
designers and provide directions
• Train and guide subordinates into accomplished professionals
• Direct and motivate subordinates to help them use their talents effectively
• Monitor results of team efforts and propose actions for the future
Private & Confidential
• Coffee Communications Public Relations Management
• Report and escalate to upper management as and when needed
• Create and maintain a comprehensive project documentation
• Stay on top of all trends and maintain best practices
ESSENTIAL QUALIFICATIONS:
• An intimate understanding of design, copy and web best practices/guidelines
• Experience with a variety of software including Adobe Creative Suite, etc
• Excellent leadership skills
• Excellent oral and written communication skills
• Knowledge of social media and emerging trends
• Understanding of the creative process, time and resources to move projects from concept to
completion
WHAT IS IN IT FOR YOU:
• Working at one of the region's top 360-strategic brand consultancy and communications
agency
• A very diverse workforce from all around the globe
• Workplace with a strong sense of family and a lot of room for advancement.
• Work in d3 – the creative heart of the city and be surrounded and connect with other
creatives
• Well-being initiatives all over the year
• Market competitive pay and other non-monetary incentives
• Annual flight allowance
• Medical insurance cover
• Discretionary bonus & commission schemes
• Generous gratuity scheme
• Respected weekends & holidays: we let you enjoy your time away from the office
• Access to UAE's best beach clubs, gyms and fitness classes based on a reward's scheme
Please submit your CVs to hr@coffeecommunications.me
https://prca.mena.global/wp-content/uploads/2022/10/PRCA-JOBS-10.png
1080
1080
prcaadmin
https://prca.mena.global/wp-content/uploads/2016/09/PRCAMENA.jpg
prcaadmin
2022-10-07 11:43:57
2022-10-07 12:31:20
Job Vacancies @Coffee Communications