Hill+Knowlton Strategies launches its globally renowned behavioural science unit, SMARTER+ in the region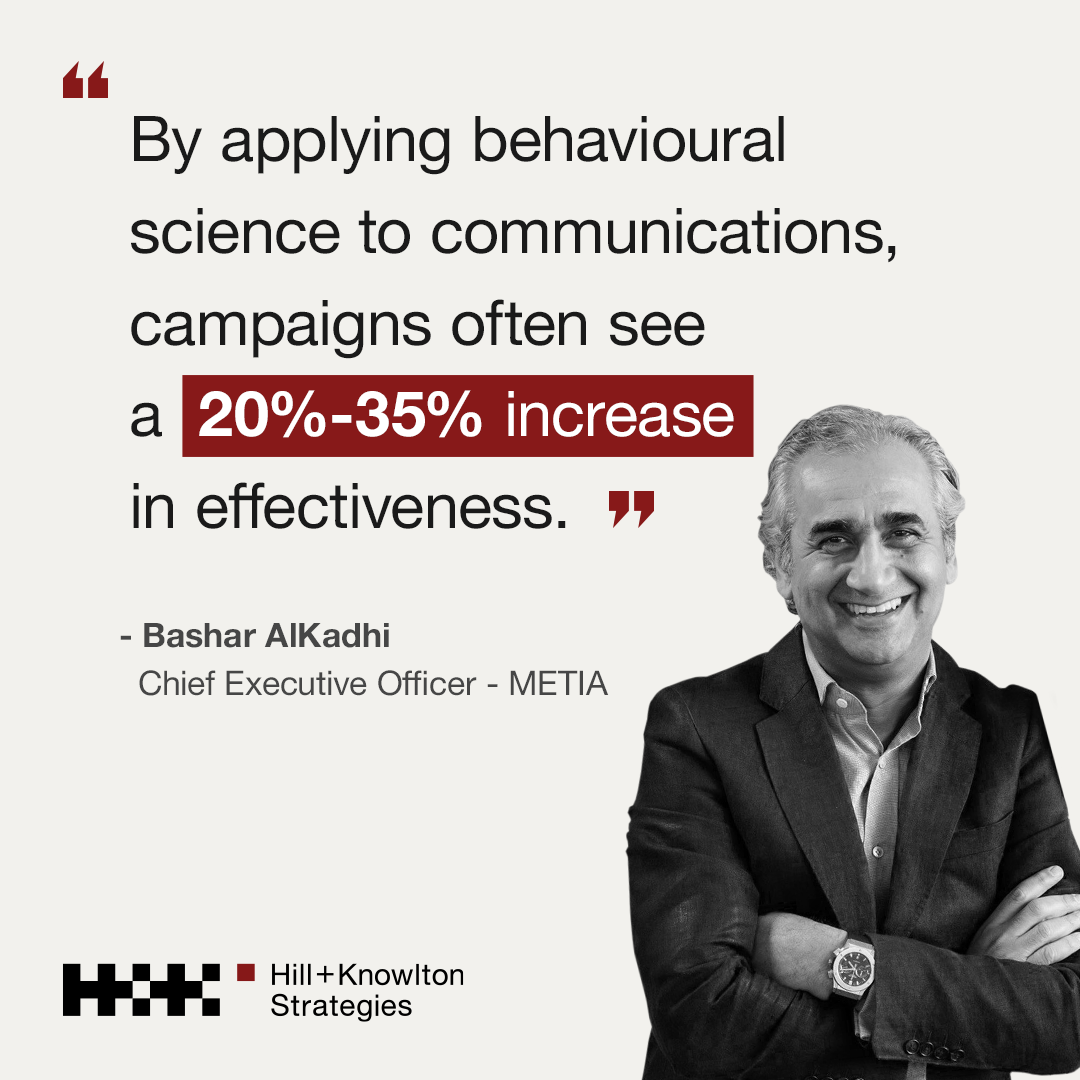 Hill+Knowlton Strategies launches its globally renowned behavioural science unit, SMARTER+ in the region
"Behavioural science draws on over 30 years of research into human behaviours and seeks to understand what can help trigger change. By applying it to communications, campaigns often see a 20%-35% increase in effectiveness." – Bashar AlKadhi, CEO for METIA region
(Dubai, UAE) Monday 27 April: Businesses and brands throughout the region may be able to see an improvement of over 20% in the effectiveness of their communications, with Hill+Knowlton Strategies (H+K) extending its behavioural science unit to its Middle East, Turkey, India and Africa (METIA) operations.
The SMARTER+ unit, which uses creativity, underpinned by decades of leading scientific research, helps organisations to learn more about their target audiences, looking at analytical ways in which people digest information and act upon what they see, hear and read.
The behavioural science focused insights from H+K was launched for the METIA region via the agency's webinar which was subscribed by senior executives from the region's top businesses and brands, offering a look at how we communicate during a COVID-19 world.
The team, who work closely with H+K's London and New York offices, will be responsible for applying behavioural science to its communications work throughout the region, and has already been applied with clients in the energy waste management, banking and health sectors.
Bashar AlKadhi, CEO for METIA, commented: "The world is changing before our eyes, and brands and businesses face new opportunities and challenges every single day. There's never been a more critical time to understand consumer and business behaviour and how to encourage them to think and act differently.
"Behavioural science draws on over 30 years of research into human behaviours and seeks to understand what can help trigger change. By applying it to communications, campaigns often see a 20%-35% increase in effectiveness."
The Harnessing the Power of Behavioural Science in a COVID-19 World webinar, invited businesses across the region to examine their ability to provide key messages during a time of crisis, COVID-19 messaging, and why it is important to understand and apply behavioural science in the world of communications. The webinar will be available to the PR industry via the Middle East PR Association (MEPRA) website on 5th May at 1pm.
Further insights are also available by reaching out to BehaviouralScience-METIA@hkstrategies.com
– Ends –
https://prca.mena.global/wp-content/uploads/2020/04/HK.png
1080
1080
prcaadmin
https://prca.mena.global/wp-content/uploads/2016/09/PRCAMENA.jpg
prcaadmin
2020-04-27 11:58:43
2020-04-27 11:58:43
Hill+Knowlton Strategies launches its globally renowned behavioural science unit, SMARTER+ in the region