BRAZEN MENA LAUNCHES INSTACREDS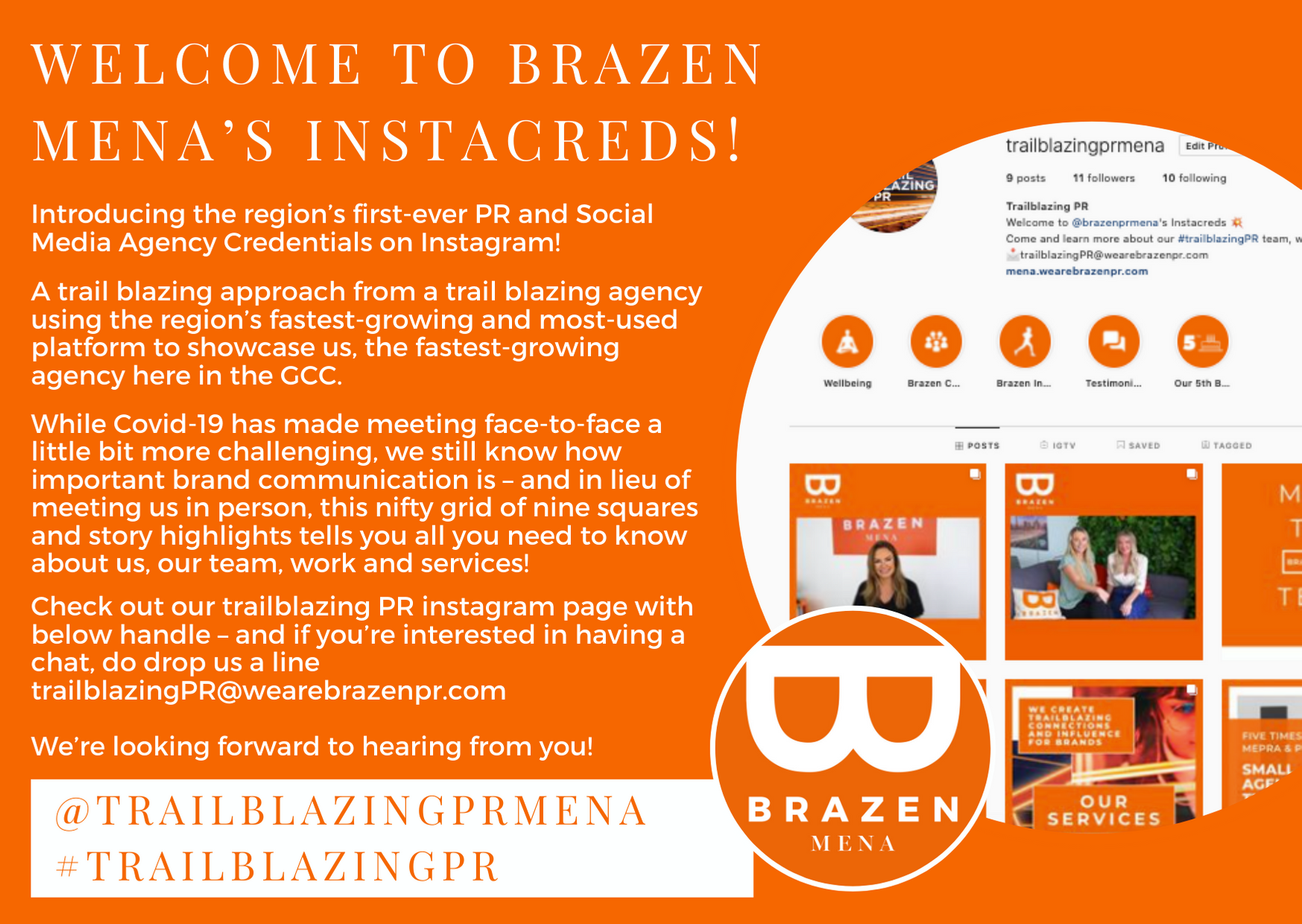 THE FIRST-EVER CREDENDTIALS USING INSTAGRAM ALLOWS AUDIENCES TO FIND OUT
MORE ABOUT THE AWARD-WINNING AGENCY, ITS TEAM, WORK AND SERVICES IN AN INSTANT
Dubai, United Arab Emirates, 20 September 2020: Brazen MENA, five-times winner of Small Consultancy of the year, has launched what it believes to be the first-ever dedicated social media page to showcase PR agency credentials in the region.
Aptly named 'Instacreds', the page allows audiences to find out more about the award-winning agency, its team, work and services using a grid of nine squares and a series of story highlights.  The initiative was developed as an innovative post-Covid response to the lack of face to face 'chemistry meetings' used at credentials and pitch stages.
The InstaCreds can be found at @TrailBlazingPRMENA – and emphasises the agency's stance to cut-through the clutter using strategic planning combined with creativity to carve out narratives for brands which quite literally leave a trail blazing in its path.
Louise Jacobson, Managing Partner Brazen MENA comments: "We've always known the importance of social media in the region, but since the outbreak of Covid-19, we saw the usage of social media increase by an astounding 30%. 
"Since March this year we have had to continually re-strategise in all areas to ensure we continue to prosper in what has been a very challenging market – and part of this has been devising solutions to reach out to prospective clients in lieu of face to face meetings.  We always like to do things differently at Brazen MENA and with that, continually innovate. We're delighted to have created what we believe is the first-ever agency credentials to be showcased on Instagram. A nine-square grid with story highlights which tells you all you need to know about Brazen MENA in an innovative and engaging way instead of multiple slides on a PowerPoint deck – and in a way that overcomes the challenges of not being able to meet prospective clients in person, and this could very well become the way forward in which agency's choose to showcase their work."
Brazen MENA chose the social platform as a means to showcase its credentials as due to Instagram being one of the fastest growing platforms in the region – and as one of the fastest-growing agencies across MENA, it was a simple, but effective and ingenuous fit.
The page sits alongside its already popular @BrazenMENAPR handle which keeps audiences up-to-date with highlights of the agency's work, the team and insights into the ever-evolving communications industry including its popular #SocialSunday which talks about the latest social media trends
For more information on Brazen please visit mena.wearebrazenpr.com
-ENDS-
For more information please contact Louise Jacobson at Brazen
+971 4 240 8395 M.+ 971 52 873 6960 E.Louise@wearebrazenpr.com
https://prca.mena.global/wp-content/uploads/2020/09/Brazen-MENA-InstaCreds12.png
1240
1747
prcaadmin
https://prca.mena.global/wp-content/uploads/2016/09/PRCAMENA.jpg
prcaadmin
2020-09-20 12:43:24
2020-09-20 12:45:21
BRAZEN MENA LAUNCHES INSTACREDS