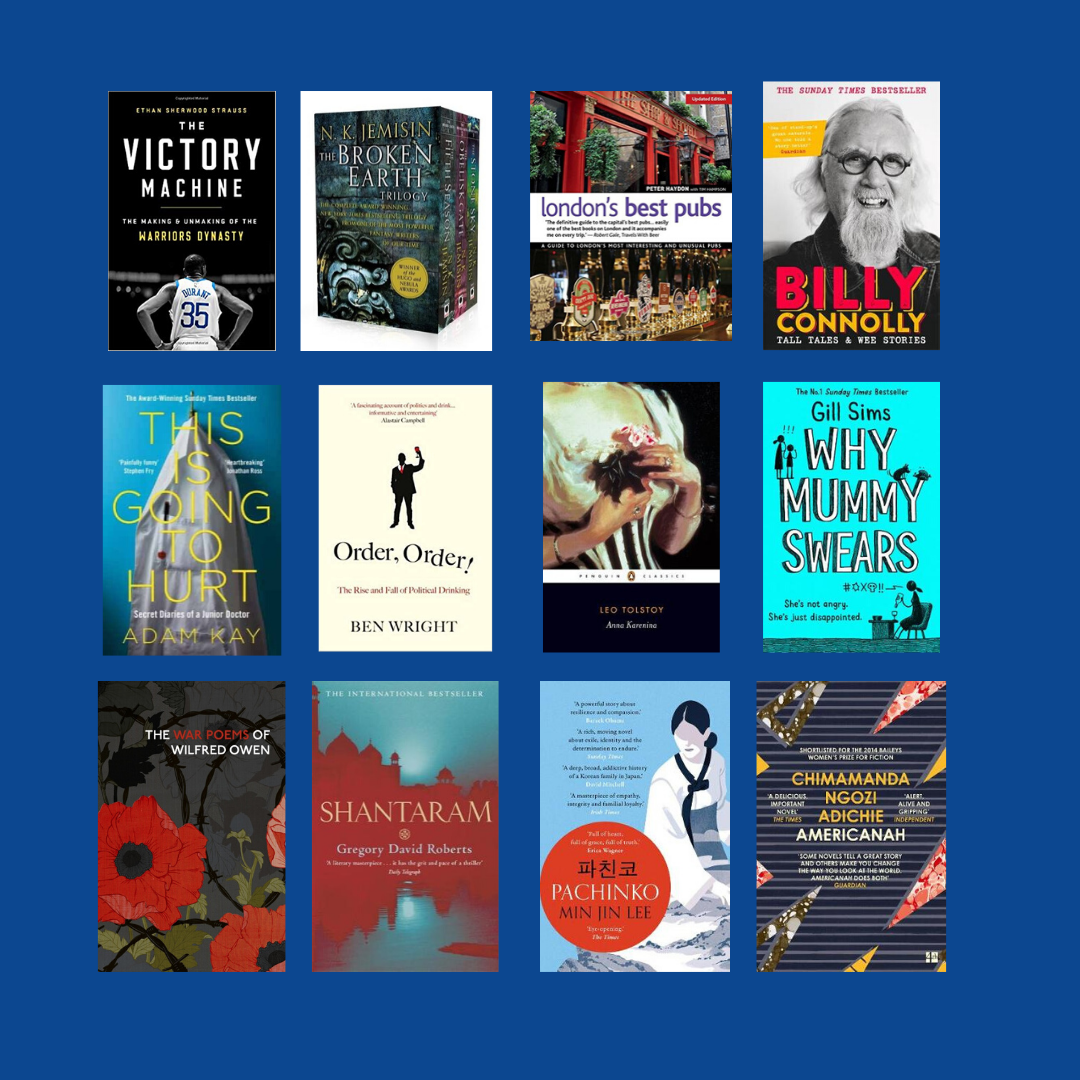 Here's the PRCA team's lockdown reading list – the delightful, amusing, sombre and the most imaginative selection of stories.
Since the lockdown, our array of activities has been mostly limited to working from home, zooming, and distracting (pretending to have control of?) our kids with Peppa Pig and Disney+. Sprinkled in-between the home chaos and adjusting to this new reality, there's also been a rediscovery of a classic pastime – reading!
To celebrate the upcoming launch of the PRCA Book Club (more on this later), the PRCA team have selected a lockdown longlist of books. We could have picked titles directly relevant to our great industry or to the current crisis, but instead, let us recommend the books that are capturing our attention.
Lockdown reading list:
London's Best Pubs by Peter Haydon
Steve Miller: "I plan to visit as many as possible once the lock down has been lifted."
'Order, Order!' – the rise and fall of political drinking by Ben Wright.
Francis Ingham: "It's an irreverent history of political drinking through the ages – some serious stuff, but mainly amusing anecdotes of our leaders leading us while a little or a lot the worse-for-wear."
The things you can see only when you slow down – Powerful mindset and affirmation book by Haemin Sunim.
Hayley Clements: "This was a game changer for me!"
Billy Connelly's Tall Tales and Wee Stories
Katy Barden: "I wouldn't have necessarily chosen it myself, but it was a present and I'm really enjoying it, not least because it's uncomplicated and funny (perhaps less so if you're offended by bad language)."
The Broken Earth Trilogy – N.K. Jemisin
Itty Alimi: "A sci-fi fiction with other-worldly characters you'll never forget, all surround a tender story about love and sacrifice."
The War Poems of Wilfred Owen.
Leigh Purves: "This is not fun and indeed quite sombre. A bit doom and gloom but heck, also so powerful. And puts things in perspective.
This is going to hurt by Adam Kay
Henrietta Okundaye: "Very relevant to what doctors go through on their day-to-day."
Why Mummy Swears & Why Mummy Drinks by Gill Sims.
Henrietta Okundaye: "Those mums who are stuck at home with the kids. It explains the life of a working mum and the struggles, in a comical way."
Anna Karenina by Leo Tolstoy.
Andrea Morland: "Russian classic. A love story in high society."
The Victory Machine by Ethan Strauss.
Michael Collins: "While this is primarily for basketball junkies, like myself, this book not only achieves tremendous insight into the rise and fall of the Golden State Warriors dynasty, but it also is a thoughtful examination of the 'depressed superstar athlete who appears to have everything'.
The Algebra of Happiness by Scott Galloway
Koray Camgoz: "Lessons in life and how to strike a meaningful balance in yours. Read the book but if you haven't the time, watch the ten minute summary on YouTube."
Shantaram by Gregory David Roberts.
Neha Khatwani: "Based on Gregory David Roberts' real life experience – a convicted Australian bank robber escapes from Pentridge Prison and flees to India. It's a long read but I couldn't put it down."
Pachinko by Min Jin Lee.
Neha Khatwani: "Follows the story of a Korean immigrant family in Japan and the struggles this community face at the start of the 20th century. It's more than just a story about racism and discrimination, it's also a beautiful story about love, family, struggle, and success.  Easily one of my favourite books of last year."
Americanah by Chimamanda Ngozi Adichie.
Neha Khatwani: "It's a story of a young Nigerian woman, Ifemelu, who moves to the United States to attend university. Whilst Obinze, plunges into a dangerous, undocumented life in London. Fifteen years later, they reunite in a newly democratic Nigeria. It's a beautifully written novel exploring the issue of identity, race, and immigration."
Neha Khatwani bonus recommendation: Homegoing by Yaa Gyasi.
https://prca.mena.global/wp-content/uploads/2020/04/Lockdown-reading-instagram-IG.png
1080
1080
prcaadmin
https://prca.mena.global/wp-content/uploads/2016/09/PRCAMENA.jpg
prcaadmin
2020-04-29 18:48:30
2020-04-30 18:44:47
A Lockdown Reading List