W7Worldwide Successfully Manages Communications for Leading Cybersecurity Conference MENAISC 2020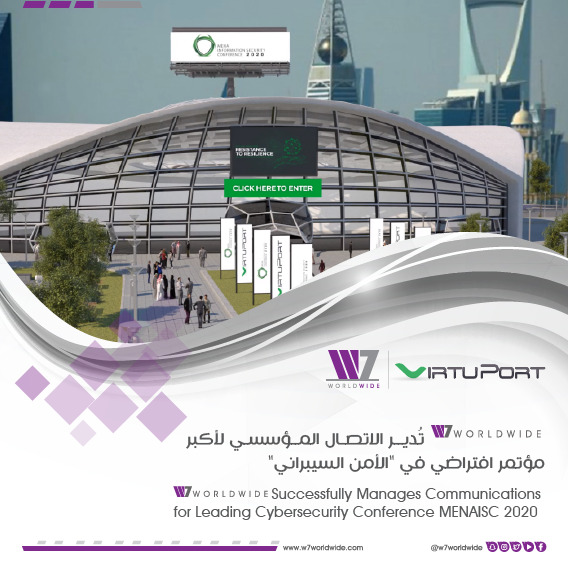 Leading Saudi marketing communications consultancy agency W7Worldwide, successfully managed the communications for the VirtuPort Middle East and North Africa Information Security Conference 2020 (MENAISC 2020), which was virtually held from October 5-6, 2020.
The event, titled "Evolution from Cyber Resistance to Resilience in an Age of Smart Cities, Digital Economy & IoT," was sponsored by the Saudi Federation for Cyber Security, Programming and Drones.
MENAISC 2020, considered to be the biggest cybersecurity conference in the region, had seven participating countries, namely: Saudi Arabia, the UAE, Kuwait, Bahrain, Oman, Egypt and Jordan. The virtual 2020 event was attended by participants from 35 countries from around the world, including: The USA, France, Germany, Australia, Russia, Switzerland, Pakistan and others.
The conference recorded an attendance of 2,800 leading professionals and experts in the field of cybersecurity and cyber resilience.  Eng. Samir Omar, CEO of VirtuPort, expressed appreciation for W7Worldwide's effective management of the event communications and media center of this year's virtual conference, due to Covid-19.
W7Worldwide worked on a 360-degree communications strategy for the conference over a period of three months, focusing on highlighting the importance and scope of the event considering the ongoing COVID-19 pandemic.
Omar said W7Worldwide proved itself to be the leading communications agency in the technology and cybersecurity sectors. It was selected as the communications partner for MENAISC for the fourth consecutive year, continuously building the brand and reputation of both VirtuPort and the event.
"For this year's virtual conference, W7Worldwide succeeded in gaining powerful media attention for the event at all levels – locally, regionally, and internationally," he said.
Co-Founder and Director at W7Worldwide, Abdullah Inayat, said the agency's cumulative experience of working with major international organizations specialized in information technology and cyber security, including VirtuPort, has given them a lot of exposure to international best practices in communication and media management.
Inayat said the agency was able to deliver the event's message to the targeted audience in the fastest and most cost-effective way.
W7Worldwide has been providing consultation expertise and advisory services to the government and private sectors over the past 15 years. The agency's edge over its competitors is in its vast local and global knowledge and network. W7Worldwide specializes in  Reputation Management, Stakeholder Mapping, Crisis Management, Media Relations, Public Relations, Social Media and Marketing & Brand Solutions.
W7Worldwide is a member of the board of directors of the Public Relations and Communication Association for the Middle East and North Africa (PRCA MENA), the largest association for communications practitioners with more than 12,000 members, comprising agencies and workers in the field of media, public relations and communications. The association aims to raise the standard of public relations and communications by providing services and information to develop theoretical and practical knowledge, in addition to creating opportunities for collaboration between PR professionals from around the world, and the exchange of international best practices. Established in London in 1969, the PRCA launched its branch in the Middle East and North Africa in 2016.
##End##
For more information:
Our Official Website: http://www.w7worldwide.com/
Jeddah – Saudi Arabia
T: +966 12 661 4579
M: +966 56 720 1039
About W7Worldwide
W7Worldwide is an independent marketing communications consultancy based in Saudi Arabia. Our deeply rooted understanding of the local market merged with our global reach and knowledge enables us to help our clients truly connect with their audiences. We are passionate about bridging the communications gap that exists in the local market. Our expertise lies in devising innovative strategies to build bridges that establish and sustain relationships while affirming brand reputation and value for our partners.
Reputation Management
Stakeholder Mapping
Crisis Management
Media Relations
Public Relations
Social Media
Marketing & Brand Solutions
https://prca.mena.global/wp-content/uploads/2020/10/W7-MENAISC.jpeg
568
568
prcaadmin
https://prca.mena.global/wp-content/uploads/2016/09/PRCAMENA.jpg
prcaadmin
2020-10-27 11:44:18
2020-10-27 11:44:18
W7Worldwide Successfully Manages Communications for Leading Cybersecurity Conference MENAISC 2020