Vegan celebrity entrepreneur Kamilla Omarzay and Chef Davide Gardini to launch vegan pizza range at BiCE Ristorante this January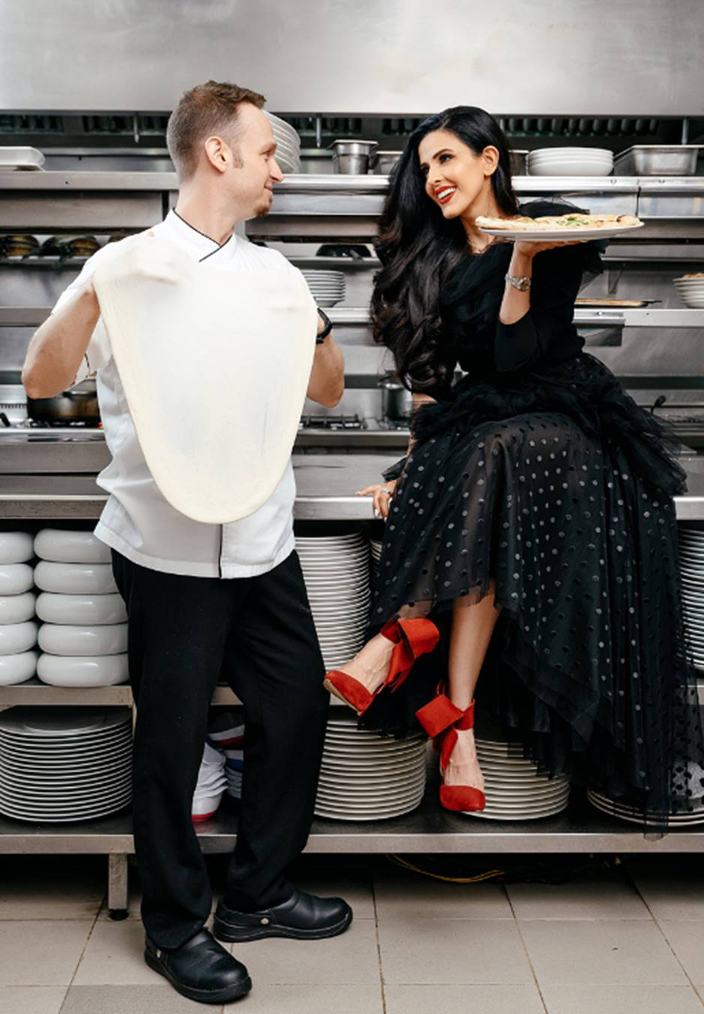 ~Renowned Italian restaurant BiCE Ristorante at Hilton Dubai Jumeirah is set to dazzle guests with delicious vegan pizzas ~
Dubai, January 2021:  Renowned Italian dining venue, BiCE Ristorante in the heart of PRCA MENA members Hilton Dubai Jumeirah, announcing the return of Kamilla Omarzay, Dubai's very own vegan entrepreneur and recipe developer. Together with BiCE's Head Chef – Chef Davide Gardini, Kamilla has designed an exclusive selection of vegan pizzas which will be available at BiCE Ristorante from 10th – 31st January, 2021. Guests are welcome to savour delicious, authentically crafted 100% vegan pizzas prepared with BiCE's famous home-made pizza dough. Kamilla has earned herself a global recognition owing to the success of her brand 'The Snack Society' launched in 2016. Her blog and Instagram page with delicious vegan creations has led to her gaining several awards such as the 'Emirates Woman Visionary of the Year 2018', 'Best in content at Cosmopolitan Middle East's 2019 Influencer Awards', 'Social Media Rising Star' at the Social Media Awards 2017 hosted by Stylist Magazine and Ahlan's Hot 100 People 2019.
This limited-time available menu will feature six delicious pizzas to choose from including Trofulicious pizza with cream of pumpkin as a base, roasted tofu, grilled eggplant and black truffle, Beyond Pizza with vegan sausage, Cheesy Fondue Pizza, Mas-calzone Pizza with creamy vegan cheese, mushrooms and broccoli cream, Frue Frue Pizza with cream of artichoke and Basically Nut – our own version of Nutella pizza – totally plant based, of course.
Talking about the partnership BiCE Ristorante's Head Chef Davide stated, "Last year we had a very successful collaboration with Kamilla in bringing the vegan menu to our restaurant.  This year, through this partnership, we are introducing an exciting range of delicious and crafted vegan pizzas that will excite the taste buds of our patrons. Kamilla, myself and my team of chefs have spent days trying out new recipes and ingredients, working with different vegan cheeses and sauces, and we are very happy with the new vegan pizzas that will be offered to our guests as a special menu".
Commenting on the collaboration Kamilla said, "I am thrilled to be working with BiCE Ristorante and Chef Davide again. I am honoured to impart my culinary creativity in preparing and introducing the six new pizza recipes at this iconic Italian restaurant. BiCE Ristorante's pizzas for sure are one of the best in Dubai and we are confident that the BiCE loyalists will enjoy the new addition to the menu. Eating clean doesn't mean missing out on one of the best things in life. That is why through this menu we are taking everyone's favourite dish – pizza – and giving it a fresh take by making them 100% vegan."
Contact : Call 04 318 2319 or Email   Restaurant.JBR@hilton.com
https://prca.mena.global/wp-content/uploads/2021/01/Picture1.png
1014
704
prcaadmin
https://prca.mena.global/wp-content/uploads/2016/09/PRCAMENA.jpg
prcaadmin
2021-01-04 16:52:47
2021-01-04 16:52:47
Vegan celebrity entrepreneur Kamilla Omarzay and Chef Davide Gardini to launch vegan pizza range at BiCE Ristorante this January