TishTash Debuts Region's First Agency Advent Calendar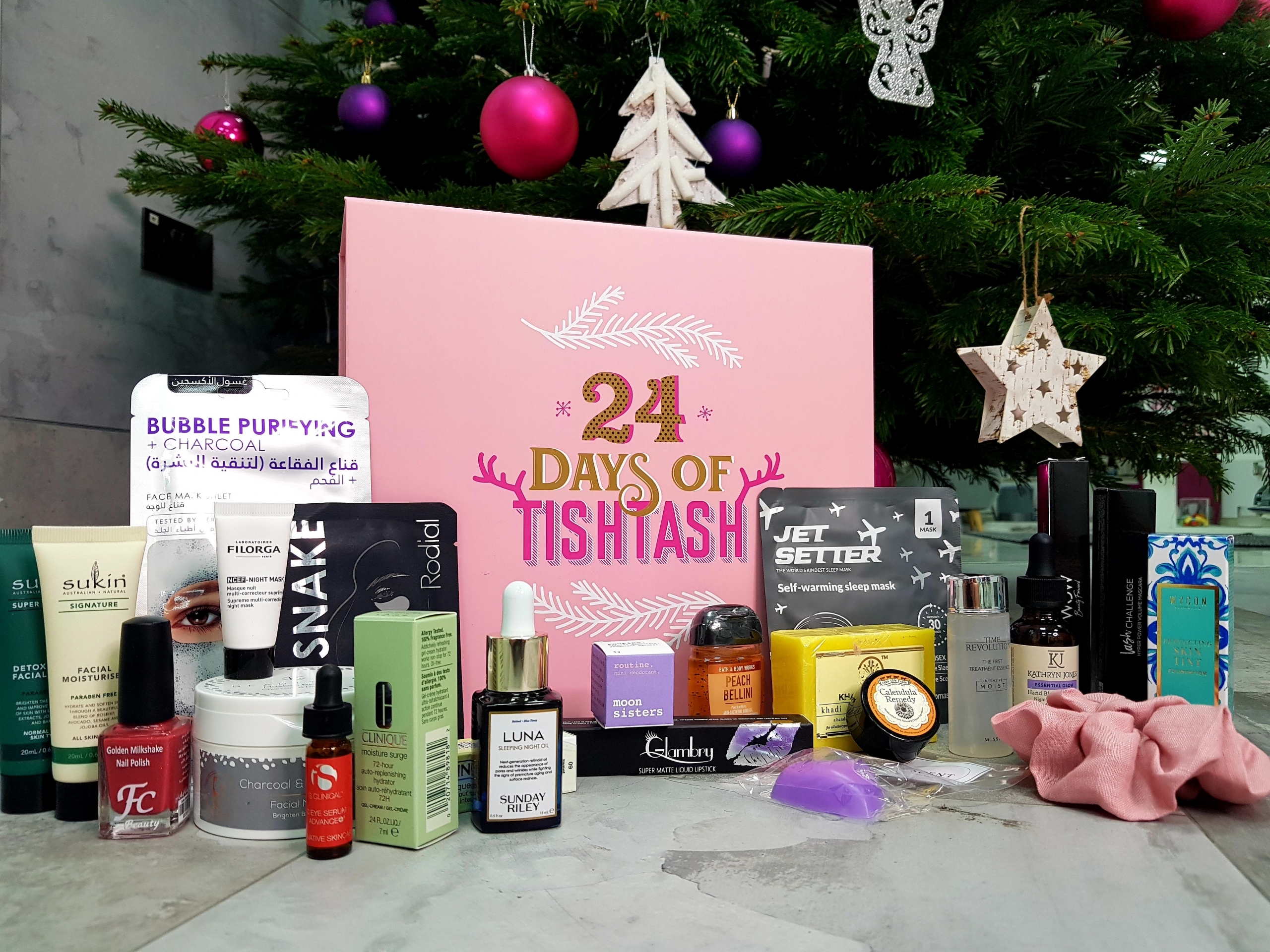 Dubai, 29th November, 2020
TishTash PR & Marketing officially launched "24 Days of TishTash" – the region's first agency advent calendar, this festive season. In appreciation of the support of selected media and influencers, the agency released 100 boxes filled to the brim with an array of the latest beauty, health and wellness treats.
Being the first PR agency in the industry to launch a beauty advent calendar, TishTash aims to lift the spirits, and thank those who have truly offered their greatest support during this difficult year. The calendar features 24 beauty and self-care products handpicked by the agency and delivered to media friends and influencers. In a time where social gatherings are restricted, this special advent calendar is the ultimate TishTash solution to end the year on a positive note of gratitude.
Since the delivery of the first boxes, social media coverage has been impressive with more than 200 engagements on the first day of deliveries. While the total social media reach is still unknown, the advent calendar campaign is set to create quite an impact whilst also focusing on sharing messages of thanks during the festive season.
Known for their creative strategies and unconventional approach to PR, the advent calendar campaign comes quickly after the launch of a number of TishTash COVID-safe campaigns over recent months. In September TishTash launched the #TishTashThru, a unique multi-brand drive thru event, that unlike anything done before, was attended by more than 200 influencers and media, generated a combined audience of over two million. Most recently TishTash found another exciting way to build awareness for their clients, with a Dubai wide treasure hunt called #TishTashTrove which was attended by 100 influencers and media in the market.
Founded in 2012, TishTash is a female owned and operated boutique beauty, health and wellness communications agency. They use their beauty know how and passion for the latest trends to create campaigns that get brands noticed and deliver results.  For more information  visit www.tishtash.com or follow @TishTashTalks.
– ENDS –
About TishTash Marketing & Public Relations:
TishTash: Talking beauty brilliantly since 2012. TishTash is a female owned and operated boutique beauty and wellness communications agency who use their beauty know how and passion for the latest trends to create campaigns that get brands noticed.  TishTash like to talk.  They know the power of a brilliant story and its importance in building a brand.  Always with a personal touch, TishTash pride themselves on creative, playful, quality work that delivers awareness, consumer demand and importantly return on investment. The agency purposefully remains small in size, working selectively with the best and the brightest emerging and established brands in the industry across the GCC region. TishTash know the storylines that connect with client audiences – because they are the target audience.  With a team of fierce females, they get it – from millennials to mums to menopausals, they understand what resonates, empowers and spurs them to take action.  The agency is currently talking brilliantly for ASICS, The Body Shop, Bath & Body Works, Rodial, Filorga, NuFace, Sukin, Skin Republic, Medcare, PMD Beauty, This Works and FACES Middle East to name just a few. Learn more at www.TishTash.com and keep up with their journey on Instagram (@TishTashTalks) and Facebook (www.facebook.com/tishtashtalks).
For media enquiries please contact:
Natasha Hatherall
TishTash Marketing and Public Relations
E: Natasha@tishtash.com   | T: +971 553100896.
https://prca.mena.global/wp-content/uploads/2020/11/TishTash-Advent-Calender_1-scaled.jpeg
1920
2560
prcaadmin
https://prca.mena.global/wp-content/uploads/2016/09/PRCAMENA.jpg
prcaadmin
2020-11-29 17:47:38
2020-11-29 17:48:36
TishTash Debuts Region's First Agency Advent Calendar