Major new study into podcast landscape in Saudi Arabia reveals 86% of podcast listeners tune in to brand-funded podcasts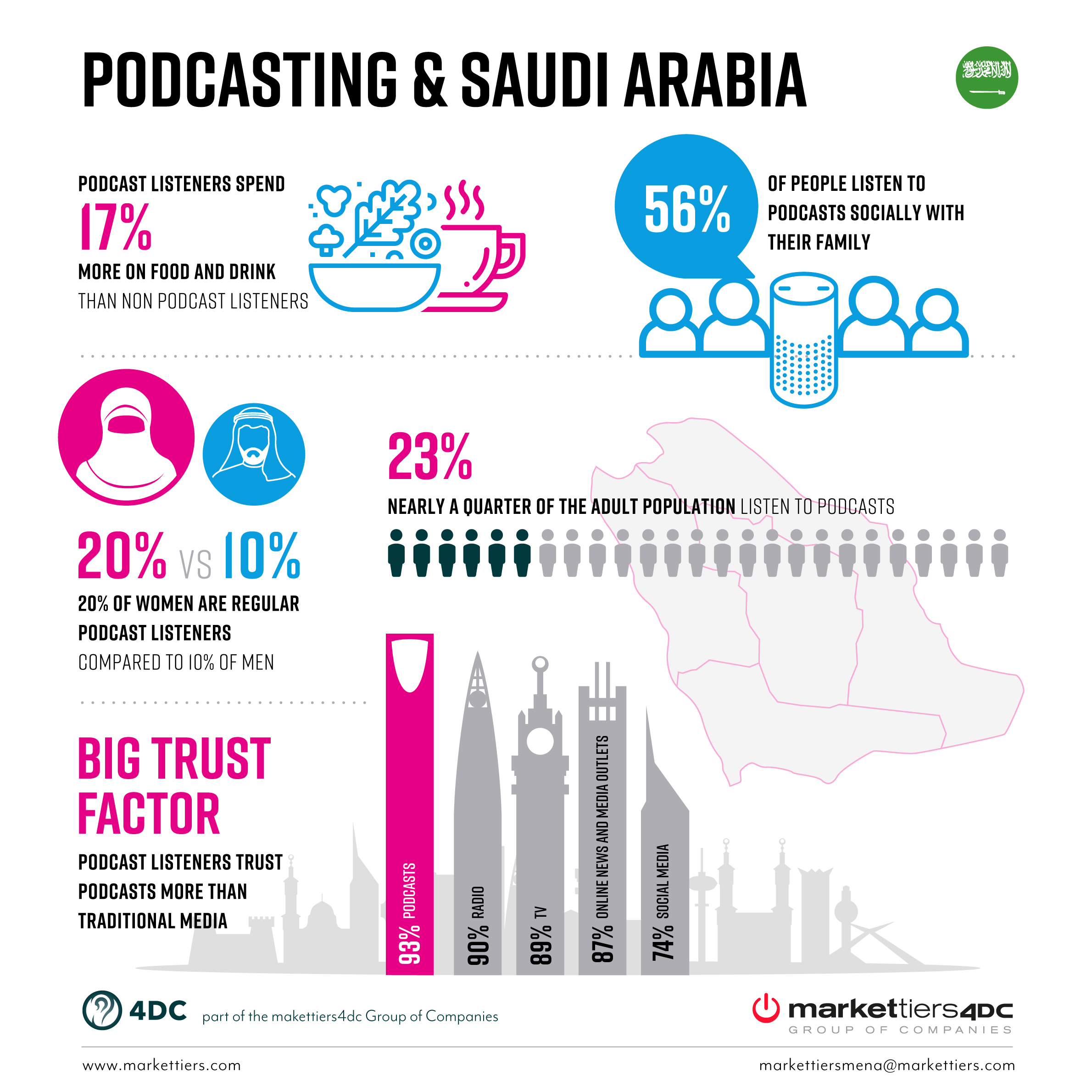 Major new study into podcast landscape in Saudi Arabia reveals 86% of podcast listeners tune in to brand-funded podcasts
 markettiers MENA releases first ever report into the podcast landscape in Saudi Arabia
78% of the population are familiar with the term podcasting
56% of podcast listeners listen socially with their families
Podcast listeners trust podcasts more than any other form of traditional media
Download the KSA podcast report from here: https://markettiers.com/podcasts/
United Arab Emirates, 10 August 2020 – As podcast listenership continues to climb globally, markettiers MENA has released the full details of its first ever podcast report into the market in Saudi Arabia, which has revealed that 86% of podcast listeners tune in to brand-funded podcasts. The new statistics reveal the huge potential when it comes to tapping into engaged, targeted audiences, with 29% of podcast listeners saying they 'always listen' to brand-funded podcasts and over half saying they 'sometimes' listen.
It is this powerful connection that listeners have with podcasts that spells a huge opportunity for brands who want to engage with audiences in Saudi Arabia, with the average length of a podcast in the Kingdom being 43 minutes. What's more, the new statistics also highlighted the spend power that exists amongst regular listeners. Podcast fans spend on average 17% more on food and drink than their non-podcast listener counterparts, 19% more on travel and entertainment and 11% more on in home spend.
The report builds on the initial findings released in April, which showed that 15% (5.1 million) of the population tune in at least once a week (comparable to 16% or 1.3 million in the UAE). And when it comes to devices, three quarters (75%) use their smartphones to listen to podcasts, which is perhaps unsurprising given the high smartphone proliferation levels in the Kingdom.
Podcast listeners in Saudi Arabia have come to show near absolute trust in the medium (93% somewhat or highly trustworthy). It might be a newcomer to the media landscape, but listeners already trust podcasts more than radio, as well as local/regional newspapers and websites.
Commenting on the report, Cheryl King, Managing Director, markettiers MENA, said: "It was our involvement at the Middle East Podcast Forum last October that spurred us to deliver this report, as we were continually being told of the burgeoning podcast landscape in Saudi Arabia, but there were not any numbers to quantify it – until now. Our report confirms an active, loyal audience and in a culture that values audio and trades off trust, podcasts represent a way to reach engaged audience in a way like never before.
"Looking forward, as listeners expect, the best podcasts are not viewed by their brands as content add-ons, but as major campaigns in their own right, with substantial creative, social and financial investment underneath. But no mistake about it, for a brand wanting to reach a specific audience in Saudi, the time is now to act. The audience is there, the appetite is univocal, and the metrics for measurement highlight the huge relatively untapped opportunity that's waiting to be seized."
The report also highlighted statistics when it comes to the type of content people are listening to in Saudi Arabia. With a large economy, boasting high purchasing consumers and a young tech-savvy population, it is somewhat unsurprising to see that technology-driven podcasts lead in popularity, with 63% listening to this genre. Music is a close second, comedy, news and sports genres are not far behind.
Given the climate that the research was delivered in, the content preferences of Saudi's follow the world-wide spike in the consumption of news related podcasts, understandably to do with the current pandemic. Furthermore, podcasts featuring strong and inspiring women are also seeing huge traction, which mirrors the research which highlights that one in four women (20%) tune into podcasts at least once a week.
More than two-thirds like listening to podcasts for content they are specifically interested in, as well as over three fifths (61%) enjoying the freedom to listen while they do other things, as podcasts are favoured by many because of their versatility.
Peter Mitchell, Group Managing Director of markettiers and co-founder of 4DC, the company's podcast strategy division, added: "What we've seen during the pandemic is that brands are innovating, being bold and willing to take more risks to try something different. The old ways of doing things do not exist anymore, so brands have had to decide how they want to play in this new world where there is no rule book on 'how to do things' post a global pandemic.
"You'd be forgiven for thinking the numbers for Saudi aren't 'mass market', but the figures are anything but. This is not about reaching mass generic audiences, but it is everything about niche targeting with zero wastage. We have seen this realised through remote internal comms podcasting. Audiences are disparate, organisations in Saudi are huge, and the one thing that unites everyone is the device they carry around in their pockets every day: their smartphone. So brands have started to embrace podcasting as a hugely effective means to engage audiences through a mobile-first strategy."
When it comes to listenership, podcasts in Saudi swing both in Arabic and English and localised content is winning over the big global exports.  It is clear from the top performing podcasts, that those which delve and develop into culture and life in the region, reign supreme. The last few years have seen a strong increase in podcasts which reflect the region and its people, spoken in Arabic and celebrating a unique cultural identity.
In Saudi Arabia, podcast listeners listen as a family (56%), with their partner (54%) and with friends (47%). Only 21% say they only listen to podcasts by themselves. The fact that the research took place during a time of social isolation may have played a part in this, but what's clear is that in Saudi Arabia, podcasts actually bring people together. And when it comes to smart speaker adoption and voice activated podcasts, which is believed to be the future of podcasts, then this is very good news. With people buying smart devices and placing them in communal areas, Saudi Arabia could soon lead the way in the region when it comes to the future of podcasting.
ENDS
For further details please contact:
Rachel Lewis or Maya Samaan at markettiers MENA:
Markettiersmena@markettiers.com or Rachel.lewis@markettiers.com or Maya.Samaan@markettiers.com
+971(0)50 880 1568 – Rachel Lewis
+971(0)50 102 5952 – Maya Samaan
https://prca.mena.global/wp-content/uploads/2020/08/Highlights-Saudi-Arabia-Podcast-Report.jpg
2380
2380
prcaadmin
https://prca.mena.global/wp-content/uploads/2016/09/PRCAMENA.jpg
prcaadmin
2020-08-10 12:33:58
2020-08-10 12:35:39
Major new study into podcast landscape in Saudi Arabia reveals 86% of podcast listeners tune in to brand-funded podcasts