LETTERS FROM THE DESK – Natasha Baker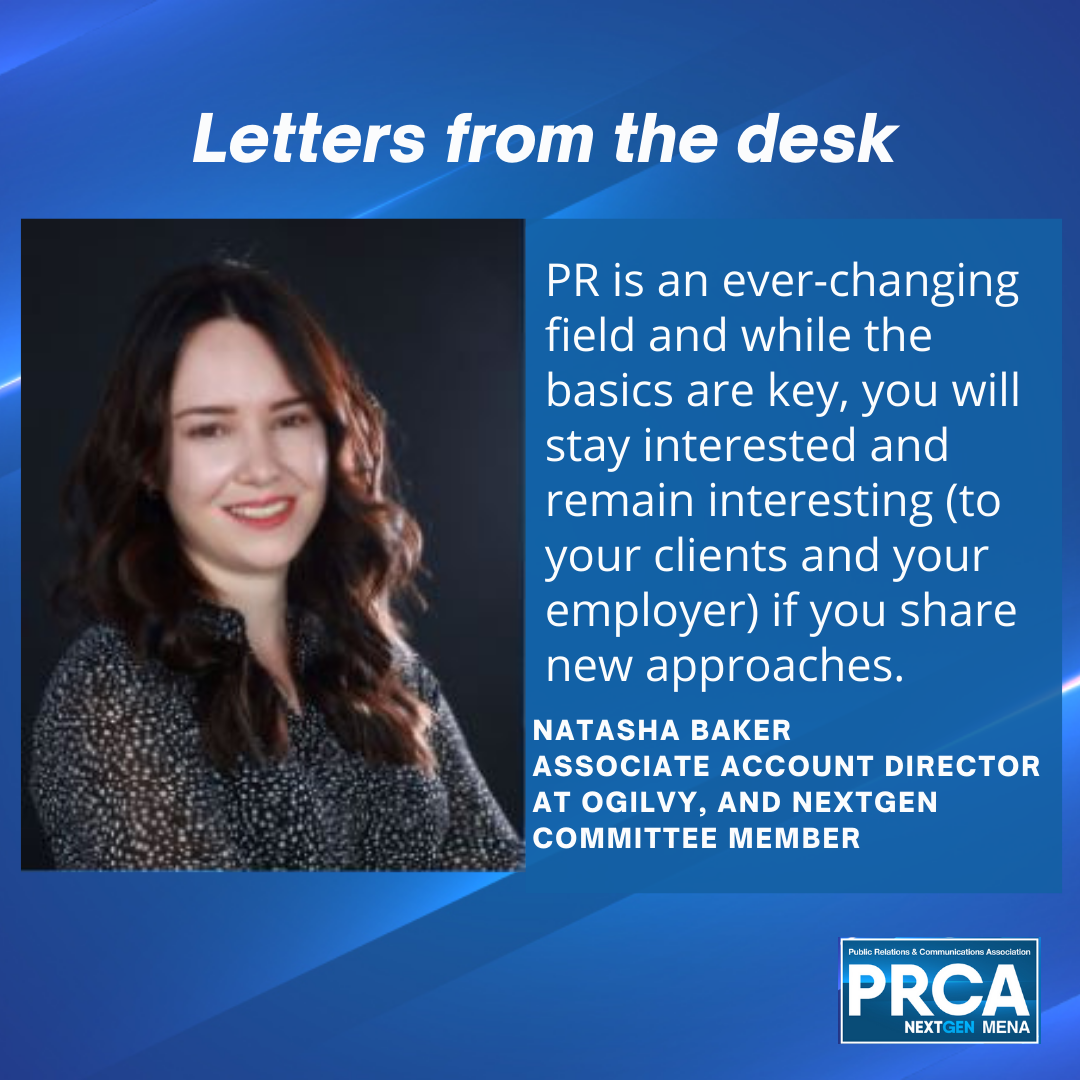 Open Letters – From the desk of Natasha Baker
Associate Account Director at Ogilvy, and NextGen Committee Member
12 December 2021
Dear Natasha,
After four years of studying, you have graduated and secured your first job, which will subsequently lead you into a career in public relations (PR). The path into PR will take a few detours; you will try your hand at journalism, and event marketing before you realise where your strengths lay.
Read the following tips – future you will thank you.
Continue to learn
Yes, you thought you had finished that stage of your life; not true! Grasp the fundamentals, then put some of your time aside each week to do an online course, attend a talk or read. PR is an ever-changing field and while the basics are key, you will stay interested and remain interesting (to your clients and your employer) if you share new approaches.
Network (and sign up to professional organisations)
Meet with other young graduates at industry events, whether that be those set up by your employer, or an organisation like PRCA or CIPR and use the opportunity to speak to other like-minded professionals.
If there are more experienced attendees, reach out to them and arrange a coffee, get the inside scoop on media relations, the tricks of the trade in the market and which journalists are the ones you need to know. The more contacts you have, the better prepared you will be for that client meeting where you need a bright idea, or to pitch an article.
Protect your health
In the 2021 PRCA Mental Health Report, you will read that 92% of those surveyed agreed that mental health and wellbeing is 'very important' to overall quality of life. However, 36% never or rarely exercise. A quarter don't make time to relax, and 24% don't eat a healthy diet. PR is up there with some of the most stressful industries, and you need to look after your physical and mental health (well before this report is published). Set boundaries, and while there will be some nights you feel you need to work late, don't let this become the norm. Without adequate rest and a healthy lifestyle, you won't perform at your best. It's a win-win.
What you have just read is only the start. But, as you will hear time and time again, be concise (your busy brain will only absorb so much in one go – and this also goes for your client and colleagues).
One last thing – believe in yourself.
Yours,
Natasha
https://prca.mena.global/wp-content/uploads/2021/12/NextGen-MENA-Letters-from-the-desk-3.png
1080
1080
prcaadmin
https://prca.mena.global/wp-content/uploads/2016/09/PRCAMENA.jpg
prcaadmin
2021-12-22 02:00:57
2021-12-20 17:45:10
LETTERS FROM THE DESK – Natasha Baker