Four announces B Corp certification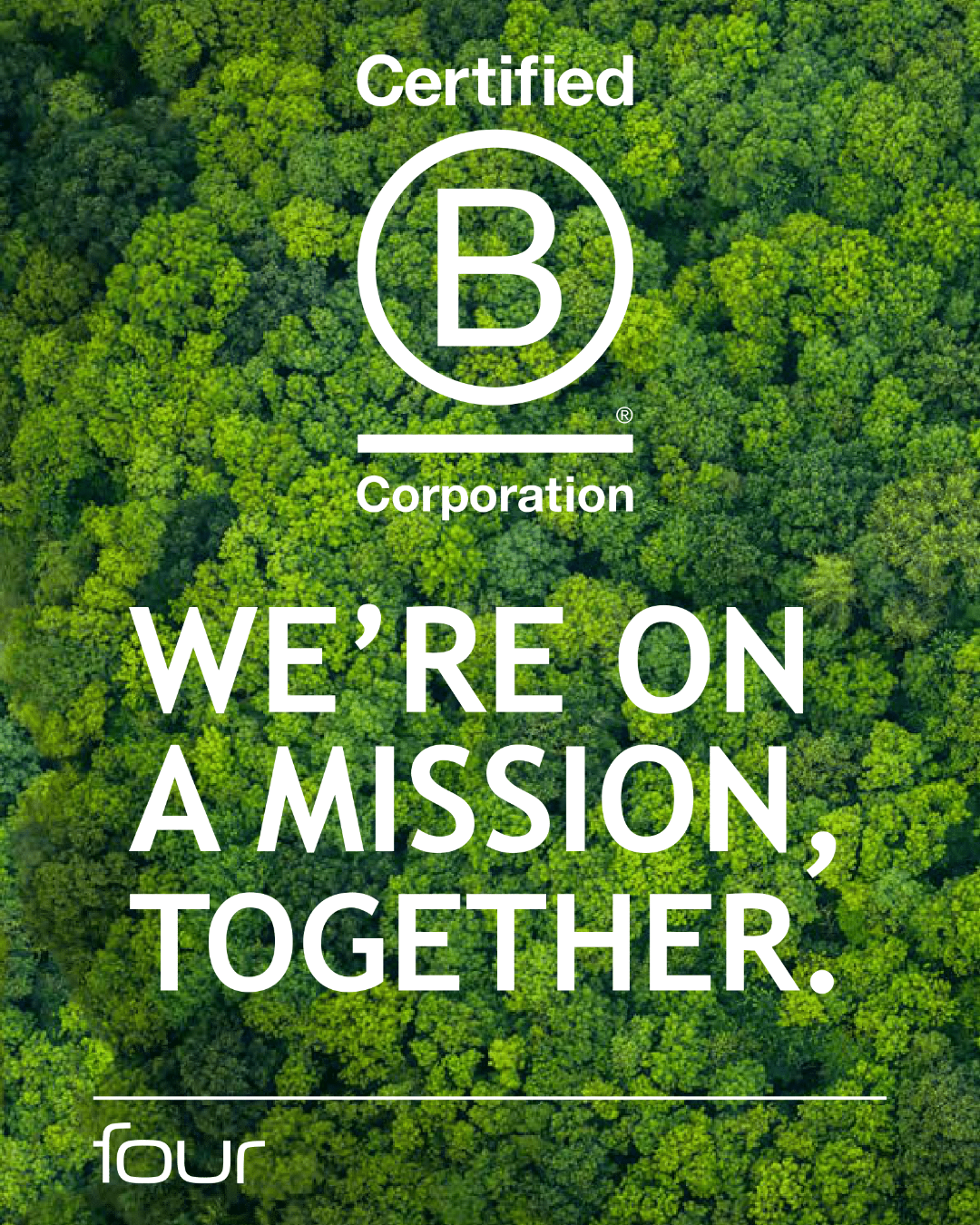 16 February 2023: London: Media, marketing & communications agency Four Communications Group (Four) has achieved B Corp certification, becoming one of the first 1,000 companies in the UK to do so. The accreditation also covers Four's operations in MENA.
For more than 20 years, the 350-strong independent agency has delivered campaigns with social value and been a force for good. This ethos is at the heart of the agency, how it nurtures and develops staff, delivers for clients and supports the local communities, in which it operates.
The accolade of achieving B Corp status is hard won with accreditation taking a forensic look at not only how responsible the business is but also the impact it has on the community, the environment, and its employees, colleagues, stakeholders, suppliers and community. Some key initiatives, which have helped Four attain excellence in these areas include:
• A commitment to equality, diversity and inclusion. Four was one of the first of very few agencies to publicly set ethnic representation targets. In 2022, 33% of Four staff came from minority ethnic backgrounds, worldwide
• A 20-year track record in delivering marketing and communications campaigns with social purpose. Four works extensively with governments, charities and other organisations to deliver work that makes a difference
• Four strives to make a real difference in the communities in which it operates. Whether that is a long-term partnership with Whitechapel Mission, an organisation helping the homeless or mentoring young people from disadvantaged backgrounds with Future Frontiers
• Staff consultation and participation. We have staff groups: Four Race Equality, Four Gender Equality and Four Earth, elected staff reps and regular staff surveys and consultation
• Forward-thinking employee initiatives include a fully flexible working policy, extra days off for staff birthdays and a volunteer day for every member of staff
Sustainability and a company's impact on the planet is also a key criteria for B Corp accreditation. Four moved its HQ to The Hickman in Whitechapel in 2020. The Hickman is the first building in the world to achieve a Platinum rating from SmartScore, the certification scheme for smart buildings with sustainable, tech-enabled open office spaces. Four's HQ, has been lauded by the media as one of the most enviable places to work in the world.
The team, which managed the agency's B Corp accreditation includes group managing director, Einir Williams; chief executive, social purpose, Anne Clarke; head of HR, Marcia La-Rose; group finance director, Patrick Kwok; and IT services director, Marc Slaughter.
Einir Williams commented:
"Now more than ever, it is important for businesses to make a positive impact – to use a B Corp phrase – to be a force for good. It's so rewarding to know we are one of the first 1,000 companies to achieve B Corp accreditation in the UK and it's a club we and our staff are extremely proud to be a member of.
"Delivering positive initiatives and tackling inequality is something that has been important to the founders of Four from the very beginning. We will continue to strive forward with a thoughtful, far-reaching social action plan that benefits our staff, clients, stakeholders and suppliers as well as the environment and community."
Anne Clarke added:
"A huge number of our clients make a positive impact, from governments to universities to NGOs, charities and social enterprises. We've made it our mission to deliver work for them that makes a difference and solves the problems or challenges they face. We deliver strategies and campaigns that save and improve lives or that recruit for vital roles that create economic growth and employment or promote diversity and inclusion. It's work we are passionate about and B Corp means a lot in this sphere. We couldn't be prouder! "
About Four
Four is one of the leading independent media, marketing & communications agencies in the UK and MENA. It offers a truly integrated approach with services spanning advertising, digital, social, media planning & buying, marketing, PR, public affairs, events, insights & planning and sponsorship. Four has five core business units: Media, Communications, Creative Technology, Creative & Marketing, Four MENA and Four Cymru. The company employs more than 350 staff and has offices in London, Abu Dhabi, Dubai, Riyadh, Cardiff and Aberystwyth.
For more information, contact: Lalla Dutt groupmarketing@fourcommunications.com
 
Key initiatives that led to B Corp accreditation include:
– Tackling workforce inequality, supporting in-work progression to help disadvantaged or minority groups move into higher paid work through focus on equality, diversity and inclusion. The agency has staff led groups: Four Race Equality, Four Gender Equality and Four Earth as well as elected staff representatives
– Four conducts an annual staff survey on self-identification across gender, race, disability and socio-economic background and staff satisfaction as well as regular staff consultation on key issues
– Creation of the Four Race Equality Pledge in 2020, establishing ethnic diversity targets for 2021 – 2023 and new recruitment practices including blind CV reviews and a version of the Rooney Rule – at least one ethnic minority candidate interviewed, wherever possible
– Partnerships include The Taylor Bennett Foundation , The Black Professionals Network and Spark! to attract more diverse candidates – staff are also encouraged to mentor young people from disadvantaged backgrounds via Future Frontiers
– Four participated in COVID-19 recovery schemes including the government's Kickstart Scheme for 16 – 24 year olds with 26 local young people from East London taken on 6-month internships
– Four is a Disability Confident Employer, which means it makes commitments around inclusive and accessible recruitment for disabled people
– An active training programme including neuro diversity training and unconscious bias trainings with Equaliteach for every member of staff
– A fully flexible working policy and flexible working arrangements implemented in 2020, informed by staff consultation
– Mental health and wellbeing support. Staff has access to 24-hour assistance to our confidential Employee Helpline as well as eight fully trained Mental Health First Aiders. There is also online GP access and a variety of health initiatives (subsidised gym membership, cycle to work scheme and a variety of Four sports teams)
– Volunteering programmes for staff and local community partnerships with cultural institutions, local schools and colleges and the introduction of a Volunteer Day in 2023 for every member of staff. Initiatives include a long-term partnership with Whitechapel Mission, an organisation helping the homeless; mentoring young people from disadvantaged backgrounds with Future Frontiers and working with the Black Communications Network to increase the seniority of Black PR and communications professionals in the UK.
– Fighting Climate Change with an annual review of activities and operations and their effect on the environment. Environmental initiatives include working with the agency's staff group, Four Earth, to achieve zero to landfill for waste, a plastics audit and year-on-year targets for energy and material consumption
https://prca.mena.global/wp-content/uploads/2023/02/My-project.png
1350
1080
prcaadmin
https://prca.mena.global/wp-content/uploads/2016/09/PRCAMENA.jpg
prcaadmin
2023-02-16 11:50:59
2023-02-16 12:24:59
Four announces B Corp certification