Active Digital Marketing Communications moves to a four day week!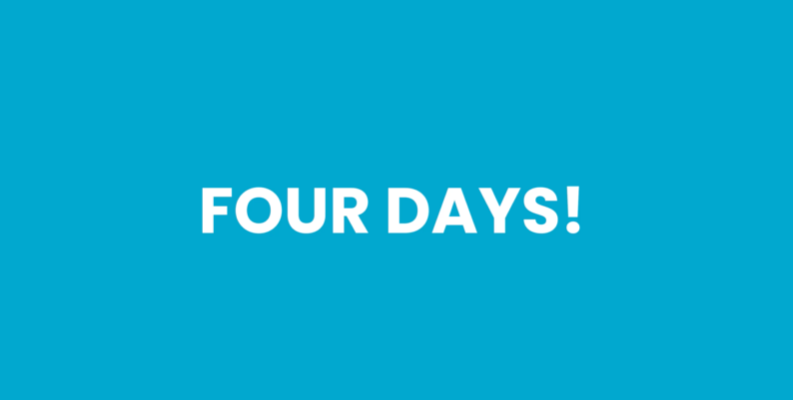 Yes, it's true, we have moved to a four day week! Over the last 18 months, it has been challenging to not only run a business but to also balance the well being and health of our team members and when we look at all the discussions around work from home, what the future looks like and how our priorities and focus have shifted during this awful pandemic it's clear that bold moves are the way to go and change is something that we all need to embrace not resist.
Being at the centre of these discussions – even leading them in our work with clients like Zoom and Citrix – we have been privy to some great insight, research and real-life examples of various ways to make the health and well being of our team a priority and balance that with being an effective, efficient, added value marketing consultancy to our clients.
We have read many articles on the four day week and we have lived and breathed the work from home (as well as the homeschooling arghghg!!!) and spoken to Agency owners in the UK and US about their experiences of embracing change in this key area. Our conclusion was to try the 4 day week approach.
We started the thinking, planning and research into this back in June of this year and immediately set out the areas that we needed to address – our clients and their needs being a very top priority, our team and their well being and what would be a great format to encourage and motivate them as well as attract new talent to our growing client portfolio as well as the challenges of fitting this to the UAE Labour Law stipulations – and my partner and I along with our invaluable Office Manager and Chief Miracle Worker discussed and reviewed these to be able to present this to our team, our clients and the world in August and to implement this as soon as it was feasible.
To that end, we have presented this to our management team and launched it to the entire team today – Sunday 1st August!
This month, we have given our team to start adjusting across teams and processes and plan to go live on the 1st of September and trial until the end of the year.
It's been received extremely well and the team is both excited and positive and is truly heartwarming to be able to have a team that has over the last year shown resilience, team spirit and applied hard work to get us through this and out of the other side not only in shape but also looking even better than before the pandemic hit. We aren't 100% there yet with our focus on our standards and our consultancy and its value to our clients and it has seen some changes at the agency most of which have been either positive or a blessing in disguise but we are in an extremely good place as they say and this has just taken that to another level! In short, all our planning and objectives of introducing our team to the 4 day week have been realized and we will see that impact evolve over the next few months – I will update you after a while on how it's going but right now we are so pleased to be one of the pioneers in this region, in our industry and with our team to implement this.
So watch this space and I'll be back – perhaps in a blog or even a video with one or two of our team – to tell you about how this is going.
By Sawsan Ghanem, Joint Managing Director, Active DMC
https://prca.mena.global/wp-content/uploads/2021/08/1627805789942-1.png
400
793
prcaadmin
https://prca.mena.global/wp-content/uploads/2016/09/PRCAMENA.jpg
prcaadmin
2021-08-08 13:54:41
2021-08-08 13:59:07
Active Digital Marketing Communications moves to a four day week!