Account Director – Atteline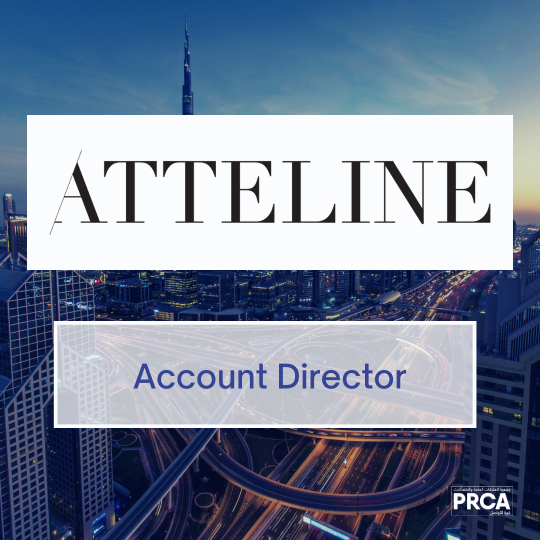 Position Title: Account Director
Position Summary: Atteline, a PR agency in Dubai, is seeking an Account Director to oversee the running of specific client portfolios, supporting the team to develop and implement strategic and effective PR plans to increase brand recognition of clients. Additionally, the Account Director will support the Managing Directors in managing teams, as well as work alongside the Managing Directors in developing the agency's strengths and service offering.
Roles & Responsibilities:
Work closely with the Managing Directors and PR teams to develop and oversee the seamless execution of the PR strategy for clients
Support teams in developing quarterly or half-yearly PR strategy documents, utilising key industry findings (strengths/opportunities) and leveraging this information throughout the year to adapt the strategy as needed
Oversee press coverage nationally and regionally, online, and for television
Develop corporate and product feature stories (and full pages) for national publications to be executed in partnership with the PR team
Provide oversight and guidance to the PR teams for regional press outreach
Assist teams in constantly identifying ways to "digitise" PR efforts, ensuring traditional PR outreach is always bolstered through digital media tactics
Oversee and approve all client reporting, analysis and presentations
Attend client and stakeholder meetings as required
Assist Managing Directors with budget planning and management for agency
Assist Managing Directors with recruitment and planning team structure
In collaboration with the Managing Directors, staying abreast of budgets, monthly invoices and working with office manager to ensure prompt payment
Oversee event planning for relevant accounts including developing the press strategy and working with Client to approve all necessary press materials
Oversee product seeding to support PR teams for relevant accounts
Responsible for directing strategy and overseeing the execution of the digital strategies where relevant
Act as the lead digital adviser for the department, including keeping abreast of new platforms, resources, blogs, websites, industry trends, etc; responsible for collaborating and sharing with the cross-department digital teams (Paid / Owned)
Build and maintain relationships with national and regional press, freelance stylists/journalists, bloggers, etc.
Build relationships with international stylists to support potential seeding and dressing opportunities where relevant
Be willing to travel internationally for up to a fortnight at a time, as required, to support agency activities and client needs, including celebrity seeding, model casting and new product launches
Seek out opportunities to further commercialise upon the potential of existing clients, i.e. consistently identifying areas to broaden the existing scope of work
Proactively network on behalf of the agency, as a charming face of Atteline
Support the Managing Directors with new business outreach, developing PR proposals and pitching
Help to develop and manage the existing PR team and act as a mentor and role model for all members of the agency
Bring positivity and new ideas to the workplace, always with a keen attitude to push boundaries and do amazing things as both an individual and as a team!
Other:
Minimum Education: College degree or equivalent experience
Minimum Years of Experience: 10 years
Skills & Knowledge:
Strong leadership skills
Solid fashion and lifestyle press contacts with print, broadcast and online media
Excellent oral and written communication skills
Strong interpersonal skills with the ability to deal diplomatically with colleagues and press
Ability to create strategy and vision as well as follow-through execution
Position may require travel
To Apply: Please email your CV to bianca@atteline.com.
https://prca.mena.global/wp-content/uploads/2021/11/Performance-Communications-2-e1635759393419.png
540
540
prcaadmin
https://prca.mena.global/wp-content/uploads/2016/09/PRCAMENA.jpg
prcaadmin
2021-11-04 17:52:10
2021-11-04 17:52:10
Account Director – Atteline