Senior PR Executive & Arabic PR Manager – Seven Media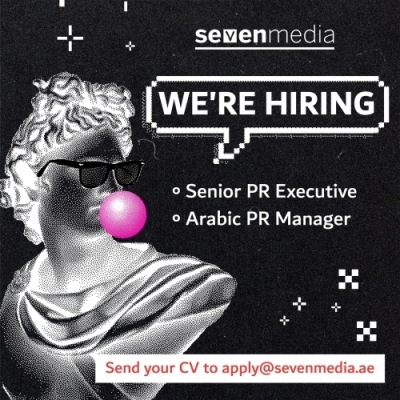 Job Profile
Position Title: Senior PR Executive
RESPONSIBILITIES:
· You are the driver of all media, influencer and blogger relationships and it is your job to know the landscape inside and out, across all the markets you are operating in
· You are responsible for ensuring the media and influencer lists across your accounts are kept up-to-date
· You sell in stories to the media and influencers to generate solid, impactful results
· You research your clients, their competitors and their industries to keep up-to-date with the latest information. You are in touch with topical news and relevant trends to build your credibility
· You provide support and guidance to the junior members of the team around media stories, selling in and day to day tasks
· You provide upward support for the Account Manager/Account Director on the team and flag anything that is not achievable, including workloads and deadlines that have been set
· You know the scope of work and deliverables on each of your accounts and ensure you are always planning ahead each month to meet them
· You sell the value of our work to the client not just sharing what we have done but demonstrating ROI, channels covered and overall impact of pieces generated
· You flag any issues to your Account Manager or Account Director and come armed with a solution to talk through with them. If something's not working, speak up
· You ensure all account processes, such as weekly reports, WIPs, monthly reports, are updated by the AE on your account in a timely and client-ready manner
· You prepare agendas ahead of meetings and ensure all necessary docs are printed
QUALIFICATIONS:
· Bachelor's Degree – Public Relations, Communications, or Marketing preferred
· Two years of PR experience required; agency experience preferred
· Proven understanding of broadcast, print, online and social media
· Strong and established media contacts both regionally and locally
· Experience managing accounts that are client-facing
· Proven track record of building and growing strong relationships with clients
· Works effectively within a team, demonstrating collaboration, communication, and problem-solving
· Proactive, detail-oriented, able to multi-task, quick on your feet, and flexible
· Excellent presentation and strategic planning skills
· Superior written/communication skills
· Ability to grasp complex content
· Event management and execution experience
Job Profile
Position Title: Arabic PR Manager
Reports to: Director – Team Head
JOB PURPOSE
Manage a portfolio of clients' PR accounts, developing PR strategies, monitoring and ensuring KPIs are met.
KEY ACCOUNTABILITIES:
· Maintain a keen understanding of industry trends affecting clients and make appropriate recommendations regarding communication strategy surrounding them
· Developing integrated PR strategies for clients
· Monitoring and ensuring the client's key performance indicators are met and growing accounts
· Manage a portfolio of clients' PR accounts whilst being the daily point of contact for the client
· Coordinating all public relations activities
· Create content for press releases, byline articles, fact sheets, etc. to further the client's profile
· Seeking high-level placements for content across print, broadcast and online media
· Manage media inquiries and interview requests
· Build and maintain relationships with top tier media and editors in chief
· Build relationships with thought leaders to grow industry awareness
· Direct social media team to engage audiences across traditional and new media
· Monitor, analyze and communicate PR results on a monthly basis
· Managing and mentoring junior members of staff
· Contributing to internal weekly meetings
· Leading client meetings and updating clients on PR activities, story angles, strategy, etc.
QUALIFICATIONS, SKILLS, EXPERIENCE:
· Arabic language skills
· Minimum four years of experience in PR accounts' management
· Excellent skills in client servicing
· Professional writing, verbal communications, and interpersonal skills.
· Ability to meet assigned deadlines.
· Ability to act and operate independently with minimal daily direction from manager to accomplish objectives.
· Ability to work cooperatively and collaboratively with all levels of employees, management, and clients to maximize performance, problem-solving, and results.
· Ability to work in a fast-paced and growing environment.
· Organisational skills
· Team player
Send your CV to apply@sevenmedia.ae
https://prca.mena.global/wp-content/uploads/2021/08/SevenSocial_August-2021-051-1-scaled-e1629028156700.jpg
400
400
prcaadmin
https://prca.mena.global/wp-content/uploads/2016/09/PRCAMENA.jpg
prcaadmin
2021-08-15 15:25:49
2021-08-15 15:49:31
Senior PR Executive & Arabic PR Manager – Seven Media