NextGen MENA – Letters from the desk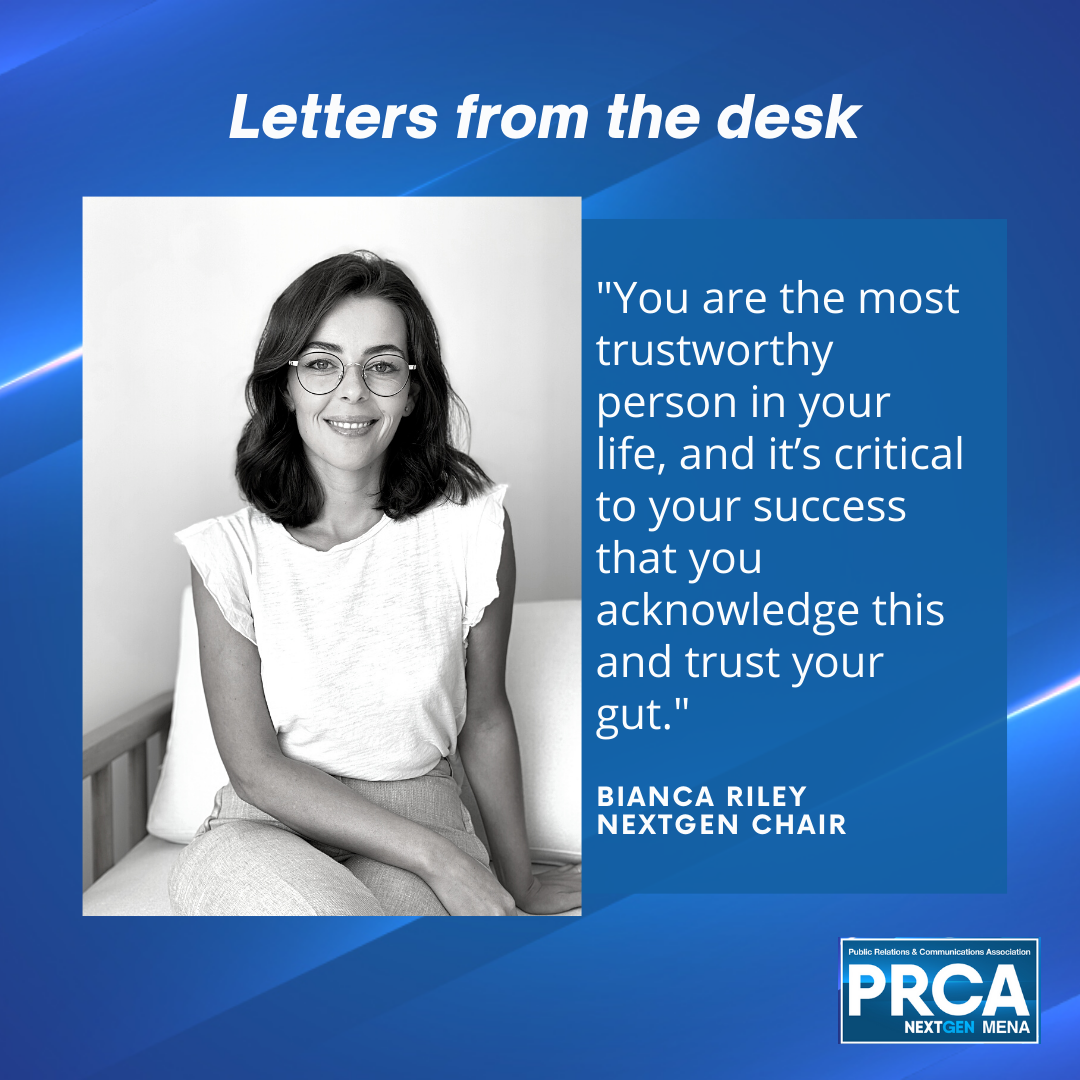 Open Letters – From the desk of Bianca Riley
Account Director at Atteline and NextGen Chair
2nd May, 2021
Our industry is at a crossroads. We have the opportunity to stretch our imaginations, contemplate real progress, and shape solutions that will carry us into an equitable and sustainable future.
As one of our first actions as the newly-founded PRCA MENA NextGen Committee, this column titled 'From the Desk of' will have members of the PRCA write an open letter to themselves when they started their careers in public relations.
It will be an honest representation of how we move forward when we're still nursing old habits, how can we shed the methods that brought us here, and foster the ones that will propel us forward. Naturally, as the Chair of the NextGen Arabia committee, I volunteered to go first, so here I go!
Dear 21-year-old Bianca,
This is future Bianca! I am really hesitant to write this letter because I don't want to disturb the space-time continuum, especially as my advice to you is actually to do everything exactly the same as you're already going to do it. You are the most trustworthy person in your life, and it's critical to your success that you acknowledge this and trust your gut.
Firstly, and most importantly, make close friends with your colleagues. You don't know this yet, but they're going to be some of your closest friends later down the line. You're going to watch them walk down the aisle at their wedding, have their first and second children, start their own businesses, and even work with them again, and you'll be so incredibly proud every step of the way.
Secondly, form lasting relationships with your clients. In about a decade, you'll realize there are so many opportunities to work with them again in their new roles, and if you continue to be true to your kind-hearted and hard-working nature, they'll remember you with nothing but fondness and jump at the chance to work with you again.
The third and final thing on my list of things to talk to you about is organization. People will tease you for being hyper-focused on productivity and organization. They will mock your post-it system and your empty inbox. Take pride in these jokes. This aspect of your personality will make your life 5x easier in every way, make you 10x more trustworthy in the workplace, and will make your peers 15x more likely to trust you and your advice on how to keep on top of things, both personally and professionally. Later in your life, when you're in a position of leadership, you will realize that this is a tough skill to teach, but if you stay diligent, you'll be the perfect person to teach it.
You are an incredible young woman, and you are destined for greatness. But, and I can't stress this enough, you will only achieve said greatness if you believe in yourself (cringe, I know, but I'm from the future so you have to believe me because I literally know what's going to happen).
No need for me to wish you all the best because I know you're going to get there.
Love your biggest fan,
Bianca
https://prca.mena.global/wp-content/uploads/2021/04/NextGen-MENA-_Letters-from-the-desk_-3.png
1080
1080
prcaadmin
https://prca.mena.global/wp-content/uploads/2016/09/PRCAMENA.jpg
prcaadmin
2021-04-25 12:04:53
2021-05-02 13:24:33
NextGen MENA – Letters from the desk