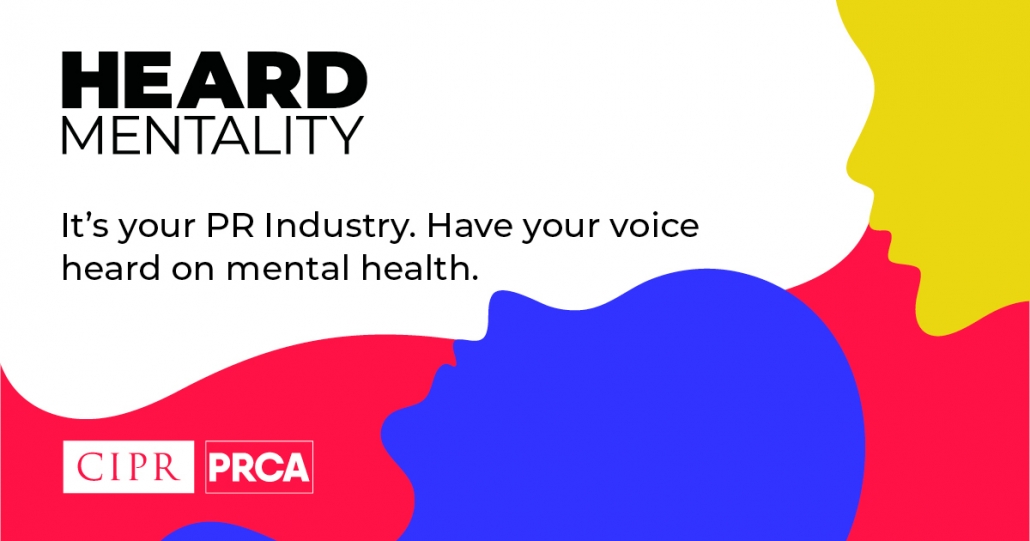 The public relations industry needs a new mindset.
The PRCA and CIPR have been tracking industry mental health and wellbeing for many years and, for the first time, both bodies have come together to launch the Heard Mentality campaign to inspire public relations and communications professionals to take positive action on mental health across the industry.
We are urging leaders to hold constructive talks with their team members or peers on mental health during the week commencing 13th September and to listen to what the people that make up the industry really want.
Join the 'Heard'
1. Organise – or encourage your employer to organise – a face-to-face or online 'Heard Mentality' conversation during the week commencing 13th September.
2. Subscribe below  to register to receive a conversation starter pack and pledge to support the campaign.
3. Pledge your support on social media by sharing this tweet.
4. Prepare for the discussion by considering:
– how your colleagues are doing
– what practical changes can be made in the workplace to support your mental health
– your own personal experience of mental health
Sign up to get involved 
Join the Heard. Subscribe to the mailing list for all the latest news and updates on the Heard Mentality.
Supporters 
3cPR
Absolute pr and marketing
Adobe
ADPR
Aimee Postle Consulting
Allott and Associates
Ameya Warty
Angela Wilson Communications
Angelina Fusco Training
Anoki
Aysha Jawed
Battenhall
BCP Council
Black Vanilla
Blue Lozenge
Bromford
Caroline Black & Associates
Carrington Communications
Catalyst Communications
CCgroup
Dementia Adventure
Devon & Cornwall Police and Dorset Police
Enlightened PR
Financial Wellness Group
FleishmanHillard
fox&cat
Grayling Communications
Harvest Marketing Communications Ltd
Havas Just
Highways England
HighwirePR
Hotwire
Houbara Communications
Insight PR & Media LTD
Jack & Grace
Jargon PR
Journaling Your Way To Self Awareness
Jule Wilson
Lindsay & Lang
Liz Lean PR
London Communications Agency
Meantime Communications
Middleton Davies
MindBerry
Mobius Communications Lrd
Moments With Annie®️ – EDENGATES
Morrow Communications
Muckle Media
Pangolin
Publinet
Quadram Institute
Radioactive PR
Resource
Reverberate Public Relations
RNN Communications Ltd
Salisbury Group
Sheffield Hallam University
Sidekick PR
smarts
South Yorkshire Violence Reduction Unit
Stone Junction
Strategic Command (part of MOD)
Student Roost
Sutton
The Inform Team
The PHA Group
The WellBeings.London
University of Cumbria
Viva
Vividink Ltd
VONNE
Warmer Communications
Waterman
William Church Consulting
The #HeardMentalityPR campaign marks the start of a collaboration between the PRCA and CIPR on mental health. Additionally, both bodies are actively supporting an industry-wide initiative to establish a mental health charter, supported by PRWeek.
Find more mental health resources from both bodies online:
– PRCA Mental Health Toolkit
– CIPR Mental Health
The PRCA and CIPR would like to thank the team at FleishmanHillard for their time, energy and creative input on the campaign.
Press release – https://prca.mena.global/prca-and-cipr-aim-to-inspire-heard-mentality-with-new-mental-health-campaign/