FIRST OF ITS KIND STUDY REVEALS THERE ARE 1.3 MILLION REGULAR PODCAST LISTENERS IN THE UAE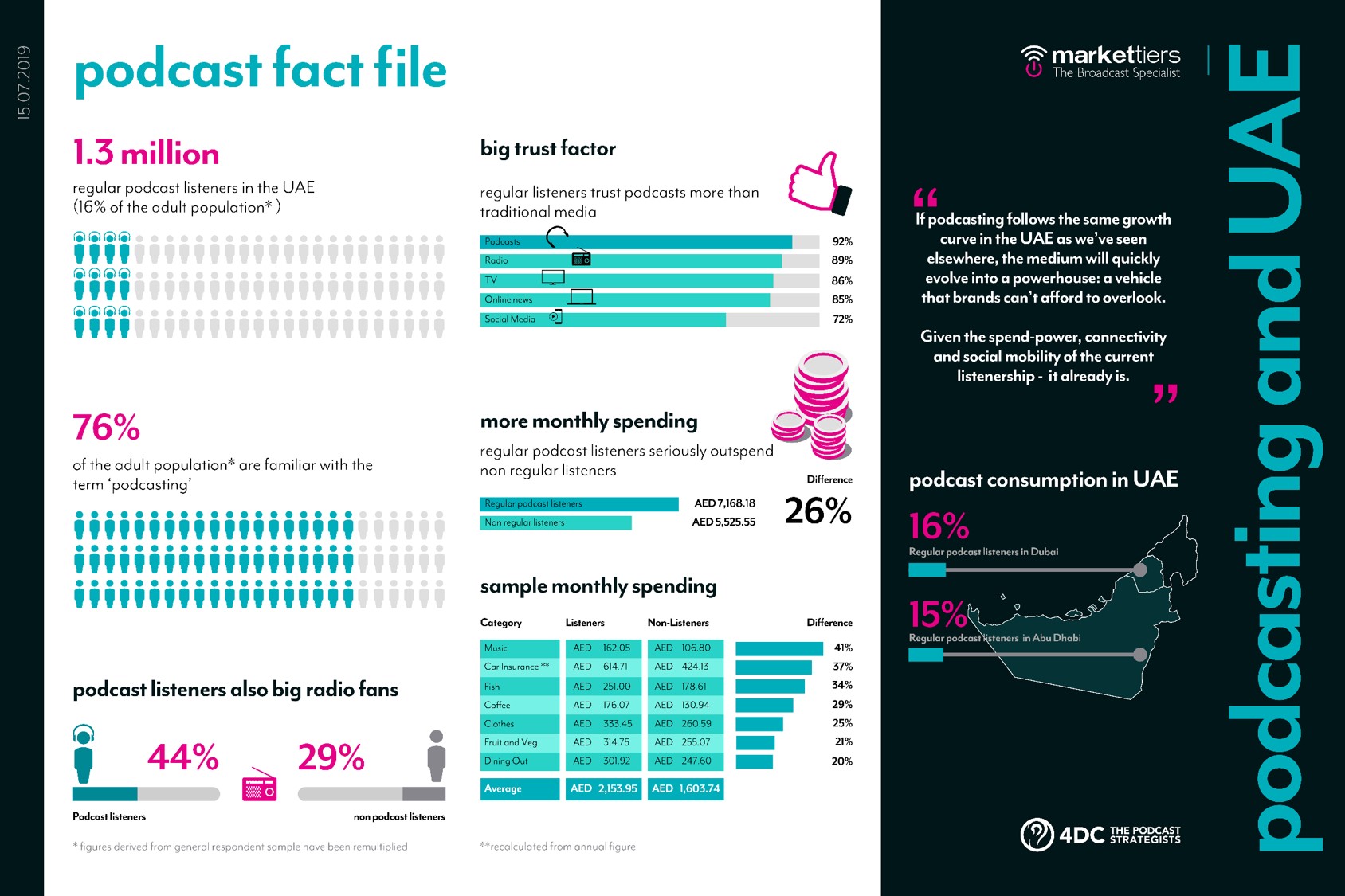 Middle East's first ever report into the podcast landscape of the UAE due to be released in August
Initial statistics reveal regular podcast listeners trust the medium more than any other form of media
DUBAI, UNITED ARAB EMIRATES, 29th July, 2019: As the global boom in podcasting continues, new research has revealed that there are 1.3 million regular podcast listeners in the UAE. That's according to new statistics released today by markettiers MENA, broadcast specialist and supported by global podcasting consultancy 4DC from a first-of-its-kind study into the podcast landscape of the UAE.
The results have revealed a nation that values the story-telling nature of the podcast medium, with 16% of the adult population tuning into podcasts at least once a week.
Initial results also reveal nine in 10 (92%) of regular podcast listeners trust podcasts more than traditional media. Podcast listeners' trust slightly drops to 89% for radio and 86% for TV. Perhaps unsurprisingly, social media fares worst in the trust stakes, with only 72% saying they trust what they find on these platforms. Ultimately podcast listeners trust the medium more than any other form of media.
A selection of results were revealed at the latest MEPRA member event, Podcasts 101, with the full report due for release in August.
Mike Fairburn, of Sony Music Entertainment Middle East and panelist at the Podcast 101 event, referenced the clear appetite and potential for the podcast scene to grow in the region as mobile connectivity and pricing, access and awareness of podcast stores, and engagement with the creative community opened up. Mike Fairburn went on to say 'the opportunity will be around empowering and supporting creative talents to drive the industry forward through engaging, relevant and informative podcast formats.'
Managing Director of markettiers MENA; Cheryl King – comments, "the trust that podcast listeners place in the content they are listening to, represents a huge opportunity that brands shouldn't ignore. Although the podcast scene in the region is still in its relative infancy, it is clear that it is primed to take off, and forward-thinking brands can get ahead of the curve and capitalise on the appetite for this medium which is undergoing a renaissance like we've never seen before."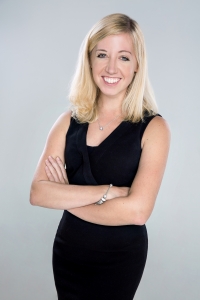 The preview data has been released ahead of the full markettiers UAE podcasting report – the first dedicated report looking into the podcast habits of the UAE. Due to be released in August, you can pre-register to receive a copy here: https://markettiers.com/podcasts/
Notes to editors
To create this report, markettiers commissioned proprietary research. The research was conducted by Opinion Matters, with 2,006 respondents (1619 non-regular podcast listeners and 387 regular podcast listeners) aged 16+ in the UAE between [27-06-2019] – [03-07-2019]. For comparison, or to fill any data blanks, we look to other markets – primarily the USA – to understand, predict and speculate as to how the UK podcasting scene might develop.
About markettiers MENA
markettiers MENA is a global broadcast specialist consultancy. Launched in Dubai in 2014, markettiers MENA is one of five communications companies housed within the markettiers4DC group. Specialising in helping brands reach their target audiences through broadcast media relations and content creation across TV, online and social platforms.
About 4DC
4DC is a global end-to-end strategic podcast consultancy. Launched in December 2018, 4DC is one of five communications companies housed within the markettiers4DC group and offers unique, full-service podcast creation and distribution strategy; with a focus on building audience reach and engagement.
https://prca.mena.global/wp-content/uploads/2019/07/Picture1.jpg
1125
1688
Harry Gardiner
https://prca.mena.global/wp-content/uploads/2016/09/PRCAMENA.jpg
Harry Gardiner
2019-07-31 16:34:03
2019-07-31 16:47:47
FIRST OF ITS KIND STUDY REVEALS THERE ARE 1.3 MILLION REGULAR PODCAST LISTENERS IN THE UAE